An introduction to Rome: The Eternal City… home of the Romans of antiquity, the Popes and the first great capital of the world.
Meet your guide
Anna
.
The English rose whose heart is in Italy
. Fluent in Italian,
Anna's
been to Venice and Rome more than 200 times. She's worked there, on and off, for the past 20 years. She goes there, guides there every season. You couldn't be in better hands. And as long as we're at it,
meet your guide and meet the tour: here's a clip from the tour
.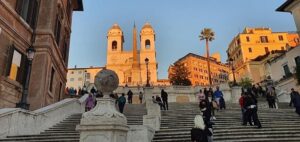 Rome is fascinating with so many aspects to discover. This is the city where splendid monumental sights hide some amazing hidden treasures which the visitor often misses.
Join me, Anna, for a highlights tour of the city of Rome. We will drop in on the most famous sights from antiquity …. the Colosseum and the Forum. We will see St Peter's Basilica, home of the Pope… and we will view beautiful monuments … The Trevi Fountain, the Spanish Steps… the icons of Rome.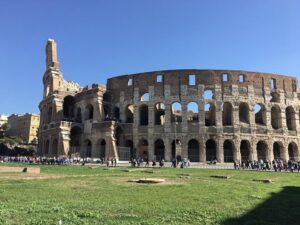 Additionally we will discover some corners tucked away which are often missed … but I'll keep these a secret for now… and there will be some lovely surprises…
The history of this city will be brought to life for you and the lives of Romans of today too… Join me for a highly colourful and enjoyable hour in Italy's beautiful capital.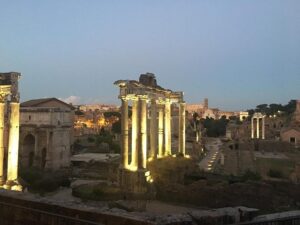 Reviews
"Very good orientation of geography at high level, then zoomed in to neighbourhood and finally the individual spots. Always had a good sense of where we were. Progression was logical and well-paced. I had been to a number of these spots at various times and got introduced to several where I hadn't been. New ideas for a physical visit when normality returns. It'd have been difficult to cover similar ground in a real walking tour. Very good adaptation for the need and advantages of a virtual tour. Enjoyed it and recommended!"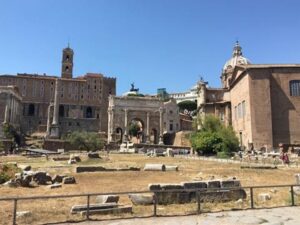 "Anna's tours are so interesting and engaging. I have done two group tours and a private tour. She is totally professional and well prepared, blending, history, architecture, travel and beauty in an entertaining hour. I have come to look forward to her virtual tours and have two more on my calendar this month. Since our family will be physically apart this holiday season, this is a lovely way to come together and celebrate life. It gives us something to talk about besides Covid and would make a lovely gift for anyone stuck at home."