Introduction
Unfamiliar London – memories of the days when Bermondsey was at the heart of the biggest port in the world. Victorian warehouses, old docks – still there but adapting to the C21. See it before it changes.

Walking Tour Practicals
Meeting time: Every Wednesday  at 10.45 am
Meeting point: Bermondsey Tube Station
Price: £15 per person (full adult)
IT ALL COMES DOWN TO THE GUIDING
Don't just take it from us…

Itinerary
Leave the traffic and the tube station and within minutes you're walking along a historic riverside street. It's still, calm, and there are wonderful views across the Thames to Wapping, downriver to Canary Wharf and Rotherhithe, and upriver to Tower Bridge and the new tall buildings of the City of London. You are only minutes from Central London but it is a world away from its bustle.

Shad Thames
A bridge by the riverfront over St Saviour's dock takes you to Shad Thames, its warehouses once full of grain and spices, now transformed into expensive apartments. This street is full of history and features dating back to Victorian times, with its Grade II listed warehouses, cobbled street and overhead iron bridges. You will discover how this part of London once was the heart of the trade of the city, where exotic commodities such as tea and coffee were stored.
When in the C20 the new huge container ships couldn't sail this far up the Thames, the port moved away down river.  But in the 1980s and 1990s the area was regenerated where warehouse conversions became new homes. To help bring back life to the heart of Shad Thames, restaurateur Sir Terence Conran opened well-known restaurants including Le Pont de la Tour and Butler's Wharf Chop House. For those looking for the Design Museum, its first home is here, but it moved from Shad Thames to Kensington in 2016, to an amazing structural design and should not be missed!
Butlers Wharf
This brings us to Butlers Wharf and Tea Trade Wharf. Both iconic buildings on the River Thames, overlooking St Katharine Docks. The Butlers Wharf building was completed in 1873 to house goods arriving at Butlers Wharf Pier for distribution all over the United Kingdom. As in much of the rest of the area, these buildings have been converted into luxury flats. As we walk around, you will be transported to a different era, when the south bank of the River Thames was an industrial hub, and Horselydown was the home of a favourite brewery.

Bermondsey
Turn inland to Tooley Street to see more of Bermondsey's social history, the changes brought by the railway that turned it into 'London's larder'. Here are street names to remind you that for centuries Bermondsey's biggest industry was leather tanning. The smell has gone, the names remain.
Southwark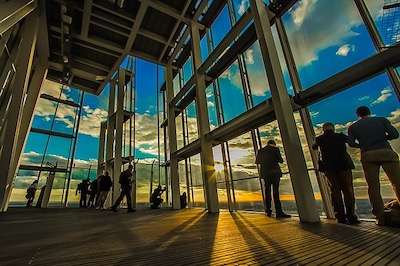 Come back to the C21 as we pass the Shard, tallest building in London – for now.Its glittering peak dominates the surrounding area by London Bridge. And end just by London Bridge – for centuries the only way of crossing the river. Everyone used the bridge – merchants and visitors, kings and queens. Now you're at the best place in London for a snack – Borough Market. This is foodie heaven – treat yourself to a toasted cheese sandwich.
Frequently asked questions
What can I do after the tour?
After a little snack at Borough Market, you can visit Southwark Cathedral then continue on to the South Bank, walking past Shakespeare's Globe, the Tate and all the way to the National Theatre.
What the guide says
One of the reasons I love this walk is that people are always surprised. After all, they know what Buckingham Palace and Westminster look like – but often they have no idea of just how fascinating this part of London is. Bermondsey in its heyday was at the heart of the port of London. Its river banks were crowded with docks and shipping, its lanes with warehouses storing goods brought into the port.
The riverside in Bermondsey is now peaceful, with great views across to the City. The narrow street of Shad Thames seems unchanged since the dockers unloaded sacks of grain, and the magnificent warehouses of Butler's Wharf stored tea, instead of restaurants.
There's plenty of history to interest foodies – many household names manufactured jam, biscuits and canned food here. But the early industry was leather tanning, a process guaranteed to turn your stomach. And we'll tell you all about it.
Dig a little deeper and find out how what was a country village became a slum, over which hung a 'graveyard smell'. How it was transformed by industry, and how local pressure transformed it yet again – bringing in radical housing policies and pioneering health care long before the days of the NHS.
And to end, we can even offer you a  really good Victorian murder.