This walk has started before it begins. We might be extras in The 39 Steps – bit-part players in one of Hitch's most dramatic chase scenes. Because we're meeting right where Richard Hannay, disguised as a milkman, abandons his milk float and, hotly pursued by German spies, rushes into the station to board the Flying Scotsman. Hannay's narrow escape rings a dramatic change in the film. Moving off from the station we ring a pretty dramatic one ourselves: welcome to the Granary Building! Built to trans-ship grain into canal barges, it's now totally re-fitted – home for that hub of the fashion world, Central Saint Martins College. It's the centre-piece of an astonishing transformation of the area – out of the chrysalis of old 19th-century industrial London into the buzz of a new London, the very latest London. It's rich fare – makes for a fascinating preamble.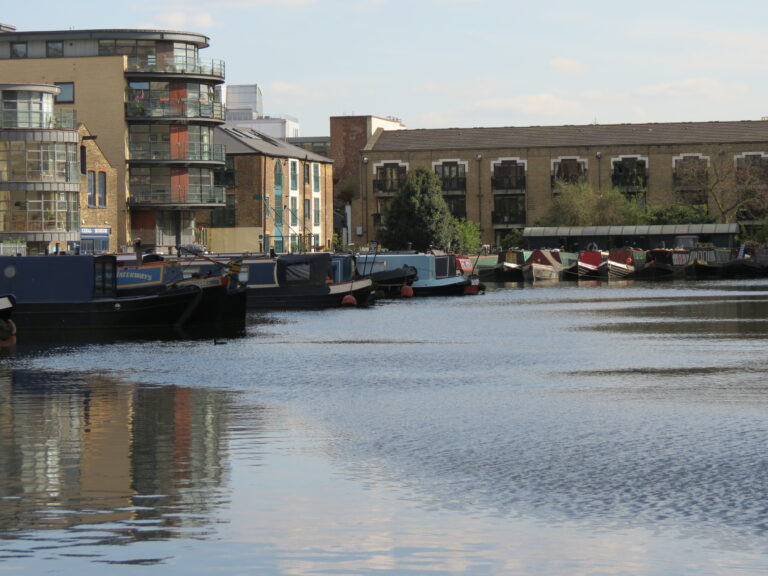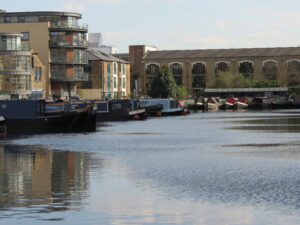 But now it's time to get down to business, get onto the towpath. Not least because in no time the canal opens out into a basin full of boats, some of which once traded commercially along these very waters. Lots of great visuals, lots of contrasts. Over there the headquarters of two newspapers; here, original 19th-century buildings, including the one that now houses the London Canal Museum. Moving on, when the canal burrows underneath Islington we take the path the barge-horses followed. Again, rich fare here. Famous London pleasure gardens, a vibrant street-market, Upper Street and then the New River and back onto the tree-lined canal towpath. Then two more canal basins, one used for canoeing, the other a nature reserve. We towpath it a bit further through north London and we're there. We've arrived at Hitchcock's Hackney. Arrived at the site of the famous studios where The Master of Suspense was "discovered."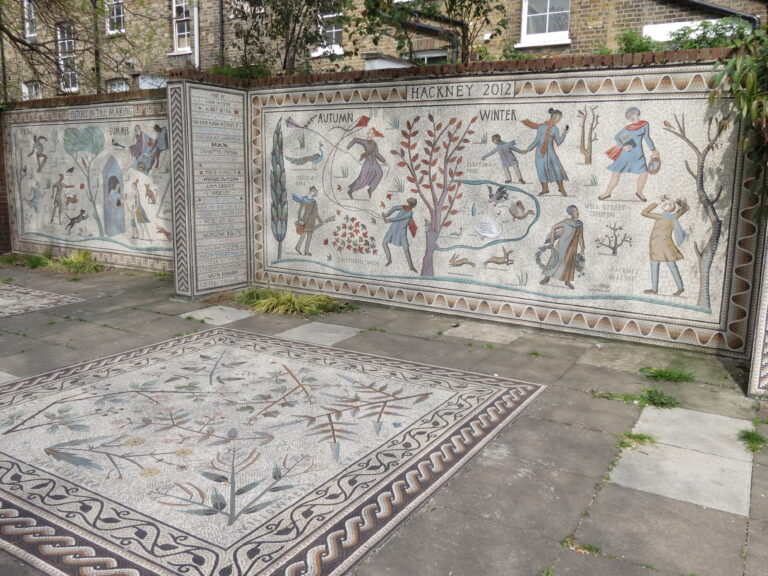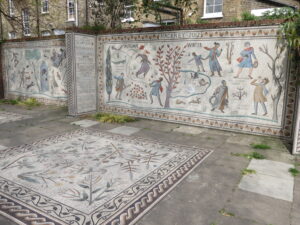 And, as usual, specialist, expert knowledge on these walks – because they're guided by Roger and his team of IWA (Inland Waterways Association) members. They all have boats and years of experience on our Inland Waterways. They know where to look, what to look for, know whereof they speak. 
THE REGENT'S CANAL King's Cross to Hitchcock's Hackney – THE PRACTICALS
The Regent's Canal – King's Cross to Hitchcock's Hackney walk takes place at 2.30 pm on Sunday, April 2nd and at 2.30 pm on Sunday, September 17th.
The meeting point is by the taxi rank, next to Pret-a-Manger, just outside King's Cross Railway Station and King's Cross Tube.

LONDON WALKS HORS D'OEUVRE
The Regent's Canal – King's Cross to Hitchcock's Hackney walk is one of a series of Regent's Canal and other Inland Waterways walks that we conduct in partnership with the IWA (Inland Waterways Association). There are getting on for a dozen different canal and Inland Waterways walks in their repertory. The Canal Walks' regular slot is the 2.30 pm Tour du Jour offering on the first and third Sunday of every month. And there are usually a handful of "guest appearance" canal walks that run as "Specials" on selected dates in any given Summer or Winter London Walks programme.
There's more. The guides are all members of the IWA. They have some formidable expertise – know the canals better than "ordinary mortals" And – how special is this – they donate their fees to the IWA. So you're supporting a good cause – doing a seriously good turn – when you go on one of our canal walks.