Short read: Fire in the hole!
N.B. this walk has to be booked. It is a towpath walk – space is limited – and in consequence, we strictly limit the number of walkers to 14. More than 15 people (guide plus walkers) it is impossible to maintain social distancing.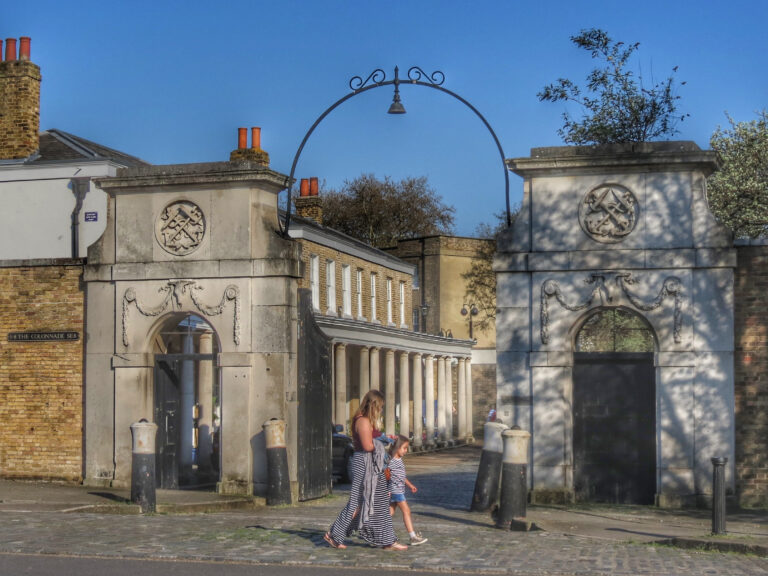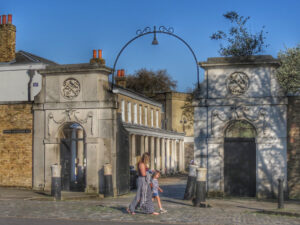 Long read: Avast! All hands on deck! Action stations! Anchors away! Cunard liners and Dunkirk Little ship and timber-laden barquentines and Thames sailing barges and London's largest marina and Phoenix section of the Mulberry Harbour being built and floated out before D-Day and rum and ship's biscuit and… well, we could be in 1805. Or 1905. Or 1605. Or May 28, 1940. Or June 6, 1944. We've got an old canal here. And a dock. And memories – let alone traces – of the Royal Navy's leading victualling yard.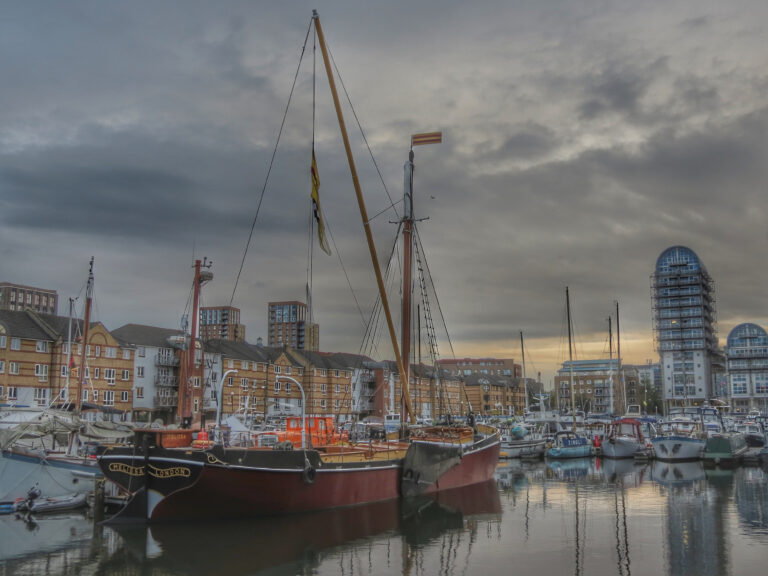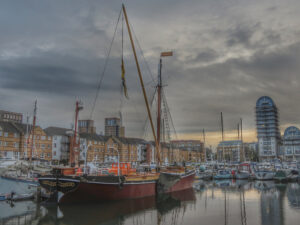 Walking this stretch fore to aft – maybe the dimensions of a couple of Super Tankers laid bow to stern – is to stowaway in the past. Decks heaving with history. Awash with memories. The tang of salt-sea air. What a past. This place kept Nelson's fleet fed and seaworthy.  It built some of his ships that fought at Trafalgar. Samuel Pepys visited it when he forged the scabbard that held the sword that Nelson used. Still further back – a sou'wester ripping the calendar pages off and carrying us way back – we've got Elizabeth I knighting Sir Francis Drake. And still further back – topsails just glimpsable, coming over the horizon –  her father, King Henry VIII's shipyard. Our canal and dock and victualling yard lead on to the Thames of course. And to walk there: ZOWIE! It's like crow's nesting our naval, our maritime history. A view of the Cutty Sark and Greenwich Naval College. On to Greenland Dock (the earliest wet dock in London – more than a century older than St. Katherine's Dock – it served the East India Company's ships). Arr! Shiver me timbers! Becalmed your historical imagination ain't gonna at the end of your watch. 1630 hours. Tea ration time. Steady as she goes.

GRAND SURREY CANAL WALK – THE PRACTICALS
The Grand Surrey Canal – Royal Navy Victualling Yard & Greenland Dock walk takes place at 2.30 pm on Sunday, March 6 and at 2.30 pm on Sunday, June 5 and at 2.30 pm on Sunday, September 4.
Meeting place is Surrey Quays Overground Station.