For centuries, London's inspired writers and artists to get creative. Its history, beauty, grandeur – and even its dirt and fog – have compelled lovers of the English language to put pen to paper.
Here, we celebrate the poets of London who have written beautifully about our capital city. From the great romantic poets to urban contemporary poets, London has borne unrivalled creative talent. The obvious celebration of poetry is Poets' Corner in the 'corner', of the south transept of Westminster Abbey. But, as this blog will show, myriad parts of London are commemorated in poems spanning centuries of writing.

Geoffrey Chaucer
Chaucer is best known for the The Canterbury Tales, depicting the journey of a group of pilgrims to Canterbury from London. Whilst Canterbury gets the main billing in the tale's title, the stories start in Southwark at The Tabard Inn.
Geoffrey Chaucer was the first poet to be buried in Westminster Abbey. Poets' Corner was established in 1400 as Chaucer's burial place. Subsequently, the likes of Edmund Spenser, Alfred Lord Tennyson and Robert Browning have been buried there and the 16 First World War poets have a memorial stone. It's no longer the exclusive resting place of poets. Musician, George Frederic Handel lays there as do authors including Thomas Hardy, Rudyard Kipling and the Bronte sisters.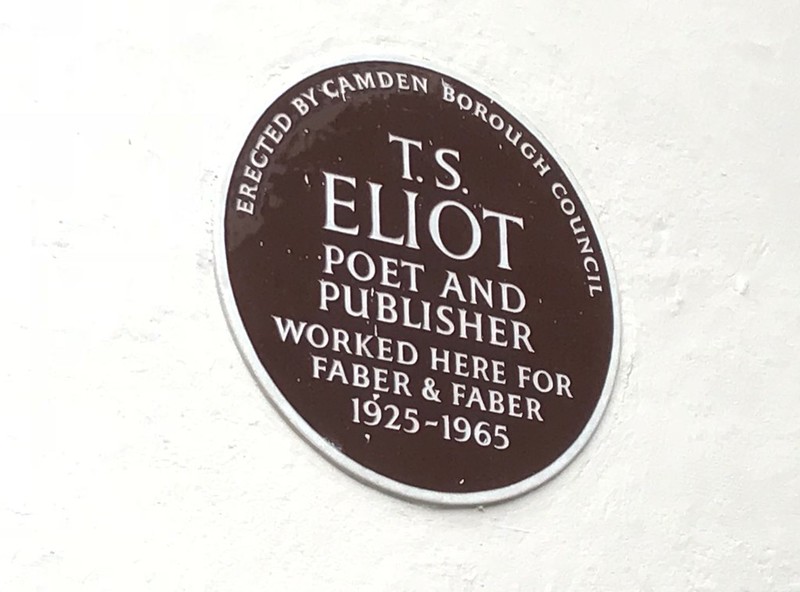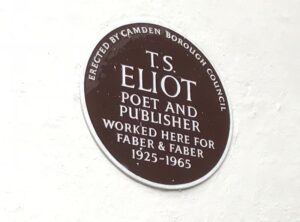 TS Eliot
It may be 100 years old, but TS Eliot's descriptions of London and its people in The Wasteland still ring so true.
"Unreal City,
Under the brown fog of a winter dawn,
A crowd flowed over London Bridge, so many,
I had not thought death had undone so many.
Sighs, short and infrequent, were exhaled,
And each man fixed his eyes before his feet."
Anyone who's experienced London at rush hour will recognise the "sighs, short and infrequent" exhaled by the wearied commuter travelling on autopilot in a death-like trance. It's strange to think that whilst the world has moved on considerably since 1922, crowds still flow over London Bridge with that same fixed stare.
Fan of TS Eliot? Join us on the special TS Eliot walking tour guided by Rick Jones!

Alexander Pope
The most telling lines about London from Alexander Pope come from his most famous poem, The Rape of the Lock. Pope eloquently contrasts the court (at Hampton Court) with the wretches that get hanged over in Newgate.
"The hungry judges soon the sentence sign,
And wretches hang that jury-men may dine."
Alexander Pope's rich and vivid contrast between the two worlds is shocking. As David, our London Walks maestro explains, "Pope rips the veil off and suddenly we see the underside of that world."
The readers at the time will have been only too aware of how Hampton Court was a world away from the other, at Newgate. Luxury and riches versus filth, disease and stench.

William Wordsworth
It may come as a surprise that William Wordsworth, whom we associate so strongly with the Lake District, authored one of the most famous poems about London. William Wordsworth's sonnet, Composed Upon Westminster Bridge, may have a cumbersome, unbecoming title but it's a great poem.
William Wordsworth describes beautifully his early morning view from Westminster Bridge. Wordsworth's magical experience will have been from the original bridge, erected in 1750. The present one dates back to the 1860s, but still provides that same vantage point. Reading the poem in situ can deepen your appreciation of it with context – the background, the history and a proper sense of place.

William Blake
William Blake wrote London at the end of the 18th century, describing the sights he saw as he wandered through the streets. It's far from a romantic portrayal of the city. It highlights the hardships, corruption and social order that were all too typical of the time.
"And mark in every face I meet,
Marks of weakness, marks of woe…"
In his earlier work, Holy Thursday he portrayed a picture of innocent, orphaned children walking into St Paul's Cathedral, flowing like the Thames. His later work is more cynical, highlighting the corruption in the church rather than this pure and innocent picture.
George Eliot
Originally from Nuneaton, George Eliot (Mary Ann Evans) left rural life to pursue a literary career in London. She lived around Regent's Park in this era and she later moved to Chelsea. In 1869, she described her view in the poem, In A London Drawing Room. In only 19 lines, she conveyed "yellowed sky" over a drab and foggy city. Her impression of the city is one of monotony and solid, dull tones – basically, grey upon grey.
Whilst we no longer contend with the Victorian smog she describes so deftly, there are still familiar sights conveyed in her poem. The people going past, "All hurry on and look upon the ground." If Londoners aren't looking at the ground, they'll be looking at their phones today – anywhere but into another person's eyes.
John Keats
The Romantic poet, John Keats lived in an impressive Regency Villa beside Hampstead Heath. Then known as Wentworth Place, the villa is now named Keats House. It's believed that he wrote Ode To a Nightingale in the garden.
Like many other writers and creatives, Keats was fond of a tipple. He could be found in The Spaniards Inn, getting his creative juices flowing. The Grade II listed pub in Hampstead is still a great place to spend time, basking in the history and tales of its former customers like Keats and Dickens.
Samuel Johnson
Like George Eliot, Samuel Johnson left his home town in the provinces for London city life. His most renowned and world-famous line must be, "When a man is tired of London, he's tired of life," and that still rings true.
One of his earlier works, London, describes "this grand imperial town." But Johnson is quick to point out the city's poverty and crime. He's even rather dismissive about The Strand, asking why anyone would want to leave the country for such a place.
John Betjeman
The 20th-century poet John Betjeman was born and bred in London. He wrote about North London with such clear affection. Betjeman describes his childhood in Hampstead and his delightful travels on the London underground. He conveys feelings of "being safe in a world of trains and buttered toast."
Various London landmarks feature in his poetry. He describes Oscar Wilde's arrest at the Cadogan Hotel and In Westminster Abbey shines a satirical light on 'good Christian folk.' In Summoned by Bells, you'll find his childhood memories of North London featuring Zwanziger the baker's, the Bon March and the curious Anglo-Norman parish church of Kentish Town.

Kate Tempest (Kae Tempest)
A modern day poet, lyricist and spoken word performer, Kate Tempest (now preferring the gender-neutral Kae Tempest) is inspired by the city around them. Since childhood, Catford in South East London has been home to the winner of the Ted Hughes Award for New Work.
However, one of their most famous poems is set in East London. In On Clapton Pond at Dawn, Tempest writes of a romantic encounter at the Hackney landmark, "You kissed me. It was lighter fuel. It burnt the night away."
If, like us, you love to discover literary London, then join us on a guided tour. Choose from our feast of literary London Walks: Literary London Bloomsbury tour, Shakespeare and Dickens' Old City, Mrs Dalloway's London, The London of T.S. Eliot's The Wasteland,The Mayfair Literary Odyssey, Dickens's London, and William Shakespeare's London. And that's not to mention walks like Kensington and Hampstead, which are redolent with literary connections even though they're not designated in the title as "literary walks." And for Poets' Corner there's of course our twice weekly Westminster Abbey Tour.