The Kinks*
Take it for a test drive. Here's an audio clip from the tour that moonlights as a podcast.
THE KINKS CAN BE BOOKED AS PART OF LONDON CALLING SERIES ONE: THE 1960s IN MUSIC – 6 VIRTUAL TOURS FOR £36 – OR AS AN INDIVIDUAL VIRTUAL TOUR FOR £10.
CLICK HERE TO BOOK THE SERIES.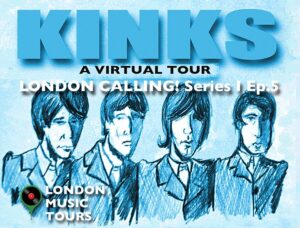 Part FIVE of our series heads for North London in search of The Kinks.
We are the Fortis Green Preservation Society! How three Muswell Hillbilly Boys (and a would-be Stone who passed over the river from down Richmond way) became Well Respected Men. A virtual tour in search of The Kinks in their glory days.
Ready, Steady, Go… 5 years that changed the face of pop & rock 1964-69… 4 of the unlikeliest pop stars of all-time… 3 number one hits… 2 warring brothers… 1 unique story
"★★★★★ Really brightened up our quarantine!" – Catherine Gritz via Facebook
" ★★★★★ If you have any doubts [about virtual tours], cast them aside and go!"
Misc4Paul NJ, Tripadvisor
London Calling! Season Membership
Season membership is £36 – that's £6 per tour as opposed to £10 per individual tour.
Tickets for individual tours are also available, subject to availability.
Q. Can I book just one tour?
A: YES! You can book as many tours as you like subject to availability.
Q. What do I get with Season Membership?
A: You save 40% on the regular price AND you get access to recordings of the tours
Recorded versions of the tours are available until February 2021 – giving you plenty of time to catch up if you can't join in live. Also if the live time slots don't suit you in any given week, buy membership and you can watch each tour at whatever time you like, they will be uploaded after each individual instalment has taken place.
These virtual tours are conducted via Zoom. You will need to download the Zoom app to your device. It's free.