The Beatles vs The Rolling Stones*
Monday 1st March 7pm (1900) London Time
THE BEATLES VS THE ROLLING STONES CAN BE BOOKED AS PART OF LONDON CALLING SERIES ONE: THE 1960s IN MUSIC – 6 VIRTUAL TOURS FOR £36 – OR AS AN INDIVIDUAL VIRTUAL TOUR FOR £10.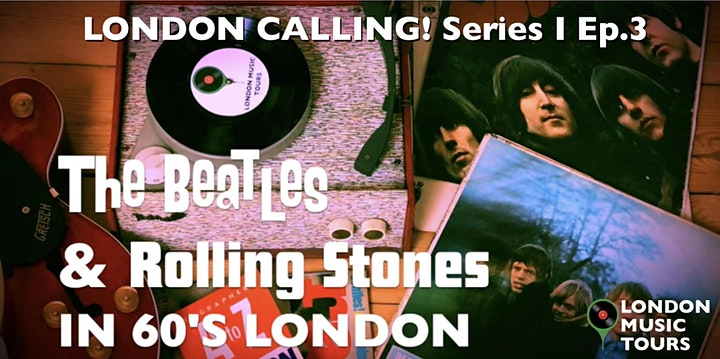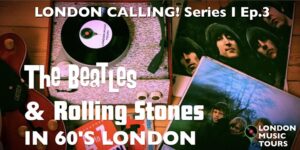 The Beatles or The Rolling Stones? Who's your favourite?
The biggest names in Rock'n'Roll. Made right here in London. Rivals? Enemies? Friends or foes?
Our tour visits their places, unravels the myths, looks at the music – and with each new anecdote we will see how the story of pop and rock advanced with their every move.
Crucially we will look back to the sounds of Black America – the music of the Mississippi Delta through the prism of Chicago, the electric music that charged a generation of suburban English kids from Dartford, Kent to Woolton, Lancashire .
In Richmond, Chelsea and Soho we'll be on the spot when the paths of The Beatles & Stones cross – studios, clubs, pubs and drug busts.
The world was never the same again
" ★★★★★ Very engaging guide… knew his stuff" – PLowndes TripAdvsisor
London Calling! Season Membership
Season membership is £36 – that's £6 per tour as opposed to £10 per individual tour.
Tickets for individual tours are also available, subject to availability.
Q. Can I book just one tour?
A: YES! You can book as many tours as you like subject to availability.
Q. What do I get with Season Membership?
A: You save 40% on the regular price AND you get access to recordings of the tours
Recorded versions of the tours are available until February 2021 – giving you plenty of time to catch up if you can't join in live. Also if the live time slots don't suit you in any given week, buy membership and you can watch each tour at whatever time you like, they will be uploaded after each individual instalment has taken place.
These virtual tours are conducted via Zoom. You will need to download the Zoom app to your device. It's free.