Beatlemania! and 60s London*
Monday 8th March 7pm (1900) London Time
BEATLEMANIA! AND 60S LONDON CAN BE BOOKED AS PART OF LONDON CALLING SERIES ONE: THE 1960s IN MUSIC – 6 VIRTUAL TOURS FOR £36 – OR AS AN INDIVIDUAL VIRTUAL TOUR FOR £10.
CLICK HERE TO BOOK THE SERIES.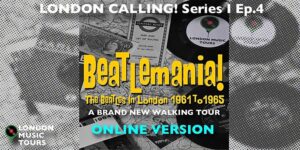 Part Four of our series puts the early Beatles centre stage 1961 – 1965.
From the freezing blue winter of '61/'62 to the Day-Glo threshold of the Summer of Love via the White Hot Heat of political, social and artistic upheaval… this is the rise, rise and RISE of The Fab Four – the optimistic years.
There's a place… Piccadilly Circus for the glamorous premiere of A Hard Day's Night; The theatre where Beatlemania was born; The club where George & John to their first acid trip; The old HMV shop where a Brian Epstein chance encounter change the path of pop culture
The Period… The BBC and the pop music "ban". The fall of a government under the weight of a sex scandal. The Ban The Bomb marches from Trafalgar Square.
" ★★★★★ If you have any doubts, cast them aside and go!"
Misc4Paul NJ, Tripadvisor
London Calling! Season Membership
Season membership is £36 – that's £6 per tour as opposed to £10 per individual tour.
Tickets for individual tours are also available, subject to availability.
Q. Can I book just one tour?
A: YES! You can book as many tours as you like subject to availability.
Q. What do I get with Season Membership?
A: You save 40% on the regular price AND you get access to recordings of the tours
Recorded versions of the tours are available until February 2021 – giving you plenty of time to catch up if you can't join in live. Also if the live time slots don't suit you in any given week, buy membership and you can watch each tour at whatever time you like, they will be uploaded after each individual instalment has taken place.
These virtual tours are conducted via Zoom. You will need to download the Zoom app to your device. It's free.