Musical St James's & Mayfair
Sunday 3rd January 5pm (1700) London Time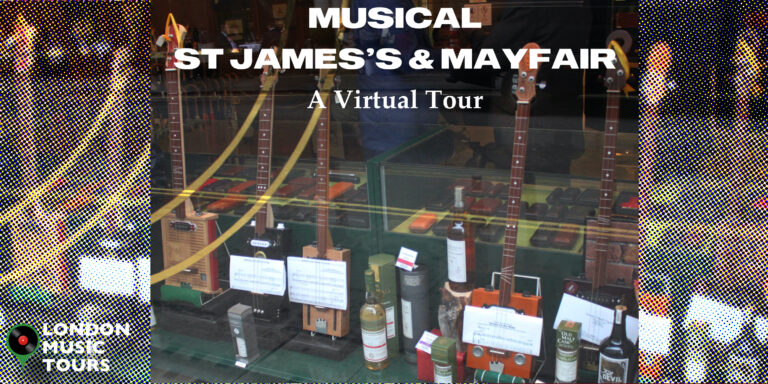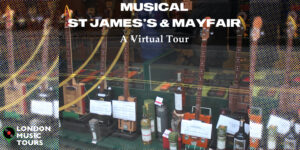 MUSICAL ST JAMES'S & MAYFAIR CAN BE BOOKED AS PART OF THE LONDON CALLING SERIES – 6 VIRTUAL TOURS FOR £36 – OR AS AN INDIVIDUAL VIRTUAL TOUR FOR £10.
CLICK HERE TO BOOK THE SERIES.
We're off in search of music in both the royal quarter AND in the heart of fashionable 18th Century London – add the Swinging 60s as a leitmotif and this music tour covers the gamut from Handel to Judy Garland.
Is that Madness performing on top of Buckingham Palace alongside the Queen guitarist Brian May? It surely is.
And will his Royal Highness make an appearance on this online tour? Yes indeed… Mick Jagger!
Hendrix and Handel will make a cameo appearance (they star in their own virtual tours elsewhere in the London Walks programme)… a pre-fame Paul Simon sings his heart out… We'll look at the life and death of 30s crooner Al Bowlly… The Beatles go out on top… Nipper the dog cocks an ear… and we'll take a closer look to see if there really were angels dining at the Ritz.
From the high baroque to Bowie's most famous album sleeve, from Thomas Tallis to Louis Armstrong this is one of the most wide-ranging virtual music tours in the series.
"★★★★★ Better than BBC4!!!" ianopod, via Instagram
Selected Themes, Artists, Periods & Genres in Episode Two
Tudor, organ music, religious music, 18th Century Classical, baroque, musical theatre,1960s pop, American Songbook, WWII, The Beatles , Queen , Madness, Handel, brass bands, martial music
London Calling! Season Membership
Season membership is £36 – that's £6 per tour as opposed to £10 per individual tour.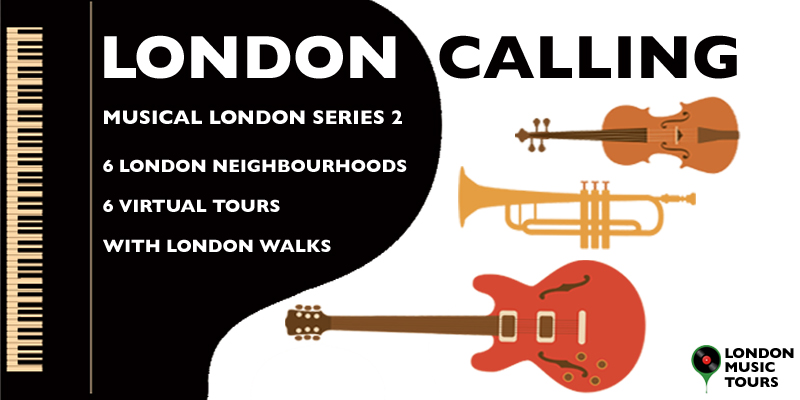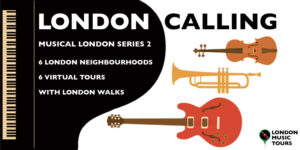 Tickets for individual tours are also available, subject to availability.
Q. Can I book just one tour?
A: YES! You can book as many tours as you like subject to availability.
Q. What do I get with Season Membership?
A: You save 40% on the regular price AND you get access to recordings of the tours
Recorded versions of the tours are available until February 2021 – giving you plenty of time to catch up if you can't join in live. Also if the live time slots don't suit you in any given week, buy membership and you can watch each tour at whatever time you like, they will be uploaded after each individual instalment has taken place.
These virtual tours are conducted via Zoom. You will need to download the Zoom app to your device. It's free.