Episode 1: Musical Marylebone
Sunday 27th December 5pm (1700) London Time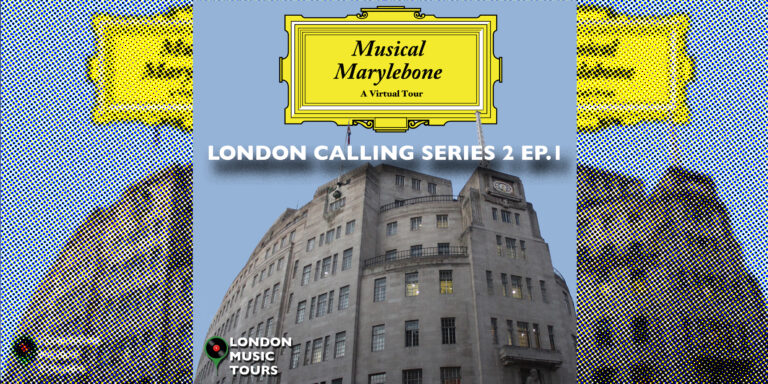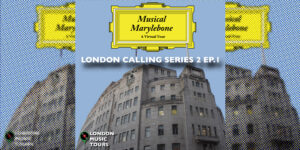 Medicine and cricket… that's Marylebone. Isn't it?
In Marylebone, showbiz and performing arts types have been elbowed out of the spotlight by the nurses, the doctors and the sportsmen.
This tour aims to put the musicians back where they belong: centre stage.
Marylebone is home to the BBC – from Teddy Bear's Picnic to Relax by Frankie Goes to Hollywood we'll delve into Auntie Beeb's often bothersome relationship with music.
The word-famous Proms music festival has its genesis in not one but TWO Marylebone concert halls.
Its streets have been home to such pillars of the English classical music establishment as Sir Henry Wood and Constant Lambert – as well as music hall (vaudeville) venues at the other end of the musical class system.
One of London's most scandalous pleasure gardens is buried beneath Marylebone's polite, geometric elegance – where we'll find the music of Handel and more.
Paul McCartney composed Yesterday in Marylebone.
So we'll ask the medicos to move aside for an hour or so – although in Hector Berlioz who lived in the area we have a representative of both the medical AND musical communities – and reveal the history of Marylebone through its music and musicians.
"★★★★★ Adam is a knowledgable and entertaining guide" Moira Allen, Google Reviews
Selected Themes, Artists, Periods & Genres in Episode One
19th Century Classical, 1960s pop, The Beatles, Wagner, The Proms, Music Hall, Sherlock Holmes, the BBC
Episode 2: Musical St James's & Mayfair
Sunday 3rd January 5pm (1700) London Time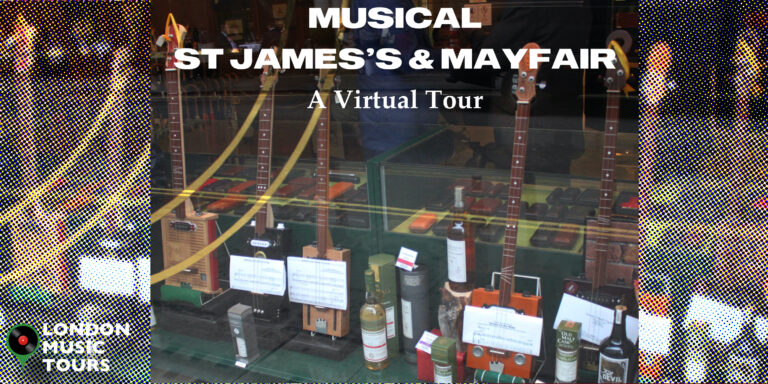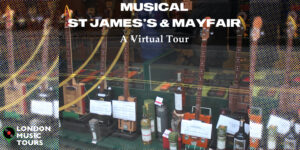 We're off in search of music in both the royal quarter AND in the heart of fashionable 18th Century London – add the Swinging 60s as a leitmotif and this music tour covers the gamut from Handel to Judy Garland.
Is that Madness performing on top of Buckingham Palace alongside the Queen guitarist Brian May? It surely is.
And will his Royal Highness make an appearance on this online tour? Yes indeed… Mick Jagger!
Hendrix and Handel will make a cameo appearance (they star in their own virtual tours elsewhere in the London Walks programme)… a pre-fame Paul Simon sings his heart out… We'll look at the life and death of 30s crooner Al Bowlly… The Beatles go out on top… Nipper the dog cocks an ear… and we'll take a closer look to see if there really were angels dining at the Ritz.
From the high baroque to Bowie's most famous album sleeve, from Thomas Tallis to Louis Armstrong this is one of the most wide-ranging virtual music tours in the series.
"★★★★★ Better than BBC4!!!" ianopod, via Instagram
Selected Themes, Artists, Periods & Genres in Episode Two
Tudor, organ music, religious music, 18th Century Classical, baroque, musical theatre,1960s pop, American Songbook, WWII, The Beatles , Queen , Madness, Handel, brass bands, martial music
Episode 3: Musical Kensington
Sunday 10th January 5pm (1700) London Time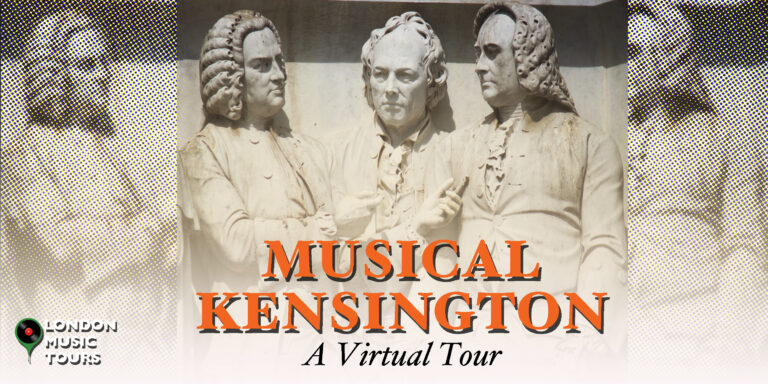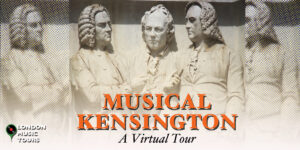 From Hubert Parry to Freddie Mercury, all music is here in Kensington.
Three great institutions will drive our narrative…
The Royal College of Music, where Parry was Head of History – we'll look at its foundation and the role it plays in the cultural life of the country.
Then there's the glorious Science Museum where we can look at the ways that music consumption has changed in the 20th and 21st centuries.
And of course, the Royal Albert Hall – Eric Clapton's "second home" and the venue for the famous Proms season.
With walk-on parts from Pink Floyd, Samuel Coleridge-Taylor, Syd Barrett and Jimi Hendrix, it's quite a bill! I doubt there's a Spotify algorithm to unify the artists we'll cover – but cover them we most certainly will. All music is here in Kensington!
" ★★★★★ A great storyteller" – Amanda B TripAdvisor
Selected Themes, Artists, Periods & Genres in Episode Three
19th Century Classical, The Great Exhibition, Queen Victoria, Prince Albert, recording technology, musical education, Eric Clapton, Jimi Hendrix, The Proms, 1970s rock, organ music, Led Zeppelin
Episode 4: Musical Chelsea*
Sunday 17th January 5pm (1700) London Time
*The subject for this tour was chosen by public vote thanks to all who took part! If there's an area of London that you think I should be exploring in a tour, drop me a line!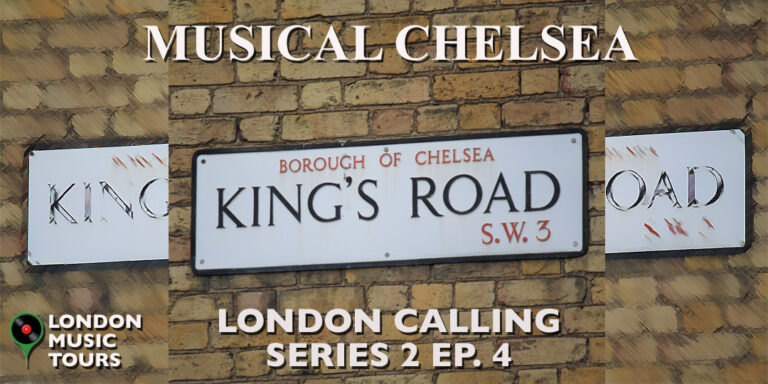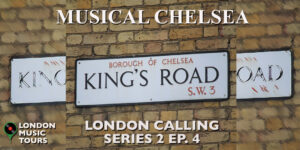 From the 1660s to the 1960s and beyond, Chelsea has long been associated with music and the arts.
As a countrified village it played home to the young Wolfgang Amadeus Mozart in the 1760s. In the 1970s the neighbourhood was woken from its post-Swinging London torpor by the gunfire of Punk Rock.
Our musical companions for this virtual tour along the dignified red brick streets, stucco squares and riverside views is an illustrious one. Knights of the Realm Sir Mick Jagger and Sir Arthur Sullivan will rub shoulders with Eastender made-good Lionel Bart and Islington-reared Sex Pistol Johnny Rotten.
Bona fide musical legends from the aforementioned Mozart to Judy Garland to The Beatles will make cameo appearances.
" ★★★★★ Adam is an enchanting entertainer" – sandraheuwels, TripAdvisor
Selected Themes, Artists, Periods & Genres in Episode Four
Punk rock, 60s pop, Judy Garland, 19th Century operetta, 18th Century classical, drugs, King's Road, Cheyne Walk, Bohemian London, Marianne Faithfull, Lionel Bart, Swinging London
Episode 5: Musical Covent Garden
Sunday 24th January 5pm (1700) London Time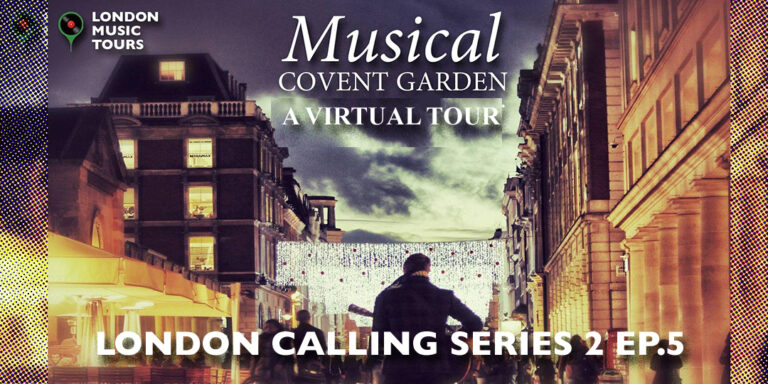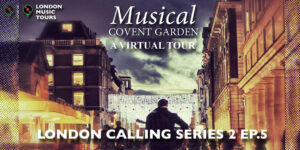 From the Royal Opera House to the theatre where Bob Marley became a legend; via the oldest disc recording studio in Europe to the hotel where Bob Dylan held court in '65; from Rule Britannia to On The Street Where You Live – this London Music Tour covers the musical waterfront from Arne to Zappa.
We'll visit The Savoy Hotel and Theatre, St Paul's Church as featured in My Fair Lady and the Middle Earth Club where Pink Floyd played
From John Gay's The Beggar's Opera to Bob Marley's Exodus, there will be cameo appearances from Noel Coward, Alan Jay Lerner, Gilbert & Sullivan, Charlie Chaplin, The Smiths, U2 and – in the best tradition of greatest hits collections – many, many more.
400 years of entertainment history in around one hour – you may have often walked down these streets before. But you'll see – and hear – them differently after this tour.
" ★★★★★ Very engaging guide… knew his stuff" – PLowndes TripAdvsisor
Selected Themes, Artists, Periods & Genres in Episode Five
Maria Callas, recording history, Bob Marley, Bob Dylan, musical theatre, opera, 1960s rock music, music hall, patriotic songs, Marie Lloyd
Episode 6: Musical East End*
Sunday 31st January 5pm (1700) London Time
* The subject for this tour was chosen by public vote thanks to all who took part! If there's an area of London that you think I should be exploring in a tour, drop me a line!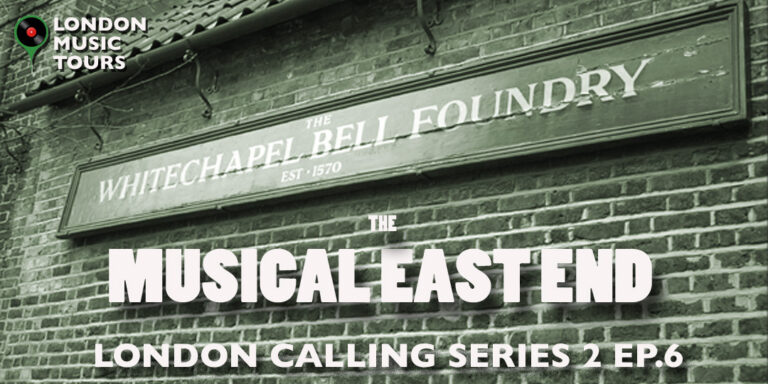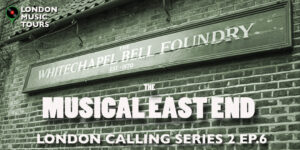 The world famous signature tune of London originates in The East End: Big Ben.
It's one of the most richly historic areas of London. But if you're looking for statues and plaques, you've come to the wrong place. In this part of town we're away from the Knights, Dames, Lords and Ladies of the musical establishment.
What we CAN give you is Georgia Brown, voice as true and powerful as a Whitechapel bell; Hoxton's own Marie Lloyd, the first female superstar of British pop and the queen of the double entendre. We met Lionel Bart, the great composer of Oliver! In the Musical Chelsea tour earlier in the series – we'll find his roots here in the Jewish East End.
As for musical theatre… from the wondrous Theatre Workshop under Joan Littlewood to the ska & calypso musical The Big Life in the early 21st century, the East End has provided the West End with some of its most memorable stars and shows.
Along the way we'll link Jewish cantors to The Clash, the Libertines to Alma Cogan and we'll ask the question on everyone's lips: "Who Do You Think You Are Kiddin' Mister Hitler?"
"★★★★★ Really brightened up our quarantine!" – Catherine G via Facebook
Selected Themes, Artists, Periods & Genres in Episode Six
Music Hall, Musical Theatre, ska, calypso, punk rock, bells, wartime songs
London Calling! Season Membership
Season membership is £36 – that's £6 per tour as opposed to £10 per individual tour.
Tickets for individual tours are also available, subject to availability.
Q. Can I book just one tour?
A: YES! You can book as many tours as you like subject to availability.
Q. What do I get with Season Membership?
A: You save 40% on the regular price AND you get access to recordings of the tours
Recorded versions of the tours are available until February 2021 – giving you plenty of time to catch up if you can't join in live. Also if the live time slots don't suit you in any given week, buy membership and you can watch each tour at whatever time you like, they will be uploaded after each individual instalment has taken place.
These virtual tours are conducted via Zoom. You will need to download the Zoom app to your device. It's free.