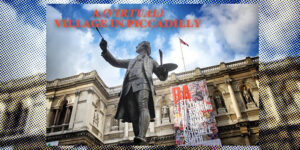 Watch the video of the On the Ground Tour 
Meet your guide. Here's Karen's Podcast about the Village in Piccadilly Tour.
Eventbrite link: Click here to book the Virtual Tour
When? TBA
Where? 1. On your screen (wherever you are: London, Sidney, California, Berlin, Chiangmai, etc.). In short,  in the comfort of your own home (we guarantee you – you will not be rained on). 2. In the poshest "village" of them all, right in the heart of classiest London.
Who? Award-winning, top-flight, professionally qualified (Blue Badge) Guides Karen and Simon.
Who else? VIPs and characters and personages (royal and otherwise) aplenty. Denizens, patrons, residents and "left their markers" of the Village in Piccadilly. And you. And your fellow walkers.
What? A guided Virtual Reality Tour of "the village in Piccadilly." You will be shown it. Shown round. Shown places. Shown things. You will hear the story. You will "meet" a lot of the principals. You will be taken there. You will return having undergone a very special experience. Anything else? Yes, the Tour is interactive. You will be able to interact with Simon and your fellow walkers – ask questions, make comments, etc.
Why? By popular demand. And because it's a Top Ten. (Explanation: there are 500 different London Walks. This is one of the Top Ten of the 500.)
How long does it last? About an hour.
How: The wonders of the Internet. In a word, Zoom.
Do I have to book? Yes.
Why do I have to book? Because we restrict the number of participants to 20. It is not a herd experience. We want to get the comfort level of the group right. Get some group chemistry, get people meeting and interacting with their fellow group members (if they want t0), get some group intimacy. For that, a maximum of 20 is ideal.
How do I book? Click on the Eventbrite link here
Or near the top of this page.
How much does it cost? £8 per person. But get this: it is the most tremendous bargain because if you hold on to your ticket you can go for free on the regularly scheduled, Monday at 2.30 pm Village in Piccadilly Walk (from Piccadilly Circus Tube, exit 4) when you are next in London and this wretched pandemic is behind us and we are able to operate the live tour in London. The charge for which is £12. You will get it for free. It's a can't miss, a no brainer.
Is it possible to book a private Village in Piccadilly Virtual Reality Tour? Yes, of course. Just get in touch with us here at London Walks. Email: london@walks.com    Tel. 020 7624 3978
What if I have further questions? Eezy peezy ontact David or Mary at London Walks. It's 18/7 and it's a real person, a living, breathing human being, not some automated, metallic "voice" presenting you with a series of options, "press this button, press that button" ad nauseum.
Email: london@walks.com    Tel. 020 7624 3978
Anything else? Yes, be sure to watch the trailer. It's at the very top of this page.