The District Line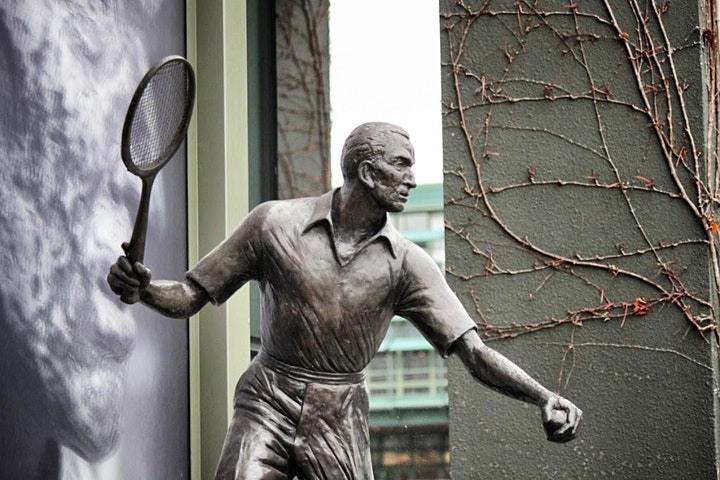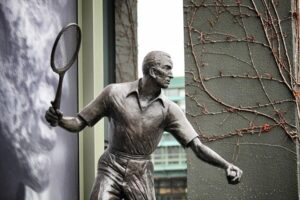 Boasting more stations than any other underground line (60 in total) the green of the District Line burgeons forth with terminals branching out as far as Upminster in the East to Ealing Broadway in the West.
It also serves some of London's most verdant open spaces from the World Heritage Site and Botanical wonderland of Kew Gardens to the manicured lawn tennis courts of Wimbledon… not forgetting the ghosts of bygone villages at Turnham Green, Parsons Green and good old Stepney Green.
To rise above all that at Earl's Court station, the busy hub of the District Line, we have the very first moving escalator on the underground system opened in 1911.

All Aboard
And we're off. Today's tour – The District Line – continues our brand new Thursday matinee Underground Overground Virtual Tour series.
Read on to put yourself in the picture about the whole series. And, yes, you can join at any time – the joys of "catch-up"– because the series will be available on video until the end of the year.
Thursday mornings at 11 am – the brand new Virtual Tour series from The Story of London team.
Or, if you prefer, the Underground Overground series will also take place on Sunday evenings at 7 pm (starting October 10th).
About this event
10 weeks of great storytelling. London by tube lines. From the West End to the farthest reaches of the underground network. Discover London as you have never seen it before.
⭐️⭐️⭐️⭐️⭐️
"The guides really know their stuff and bring the story to life brilliantly, with unexpected twists and turns along the way"
Tamzin C, Tripadvisor March 2021
The London Underground is the oldest underground railway in the world.
It touches the lives of every Londoner, citizen and denizen alike. It gets us there; it gives us an alibi when we're late. It makes us contemplate a work of art every day of our lives when we study Harry Beck's schematic tube map to plan our journey.
We use it to get to our working week and our Sunday rest. We London Walks guides meet our London Walkers at its stations…
But how many of those 272 stations have you visited? How many of them are merely names as you flash from A to Z on your London adventures? What lies above and beyond?
This NEW 10-part virtual tour series from The Story of London team aims to mend the gaps in your London knowledge.
Starting on 14th October 2021 over 10 weeks (with a break for Halloween Sunday 31st October). Each tour will be recorded and available to watch until the end of Dec 2021.
We will be live at 11 am on Thursday mornings…