We are running two special walks on Saturday 10th September and Monday 12th September to replace the Westminster Abbey tour. The tour will focus on Royal London, the Guard Changes may not take place.
Walk alongside the Guards and their band. Check. Watch the old Guard march off. Check. Cut through to Wellington Barracks to watch the new Guard march out. Check. Buckingham Palace and the Mall. Check. The balcony – see what's behind it. Check. Clarence House to see the Guards march through. Check. The Sentry Box ceremony. Check. Horse Guards for the ceremonial climax and the parade to Hyde Park. Check. Horse Guards history. Check. Parade ground and its history. Check. Downing Street and its history. Check. War Rooms and its history. Check. Westminster Abbey and its history. Check. Glory, pomp and ceremony. Check. Best vantage points. Check. Photo-ops to die for. Check. Royal iconography. Check. Landmark London. Check. Up close, right there, intimate. Check. The London Walks hallmark of Big Ticket stuff and an astonishing degree of granularity. Check. Elite, professionally qualified guides who know what they're doing. Check. Timed* to perfection. Check. *Has to be to fit all of the above together. Revealed by Anne-Marie, Jan or Delianne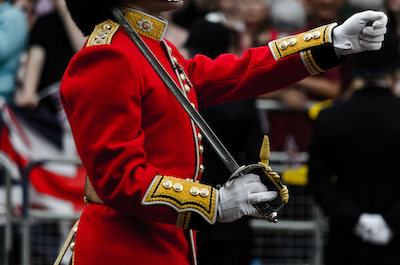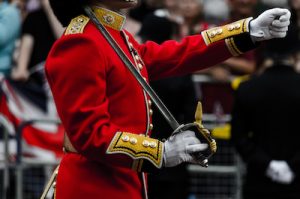 Short read: A royal walkabout, a refulgence, a red carpeting, a roll call of Royal London – Palaces, Pomp, Pageantry, Panorama & the Royal Flush of Guard Changes
Short listen: Guide Claire on "the balcony"
ROYAL WALKABOUT – THE PRACTICALS
The Royal Walkabout takes place every Wednesday at 10.15 am. The meeting point is just outside St. James' Park Tube, the Broadway/Westmiinster Abbey Exit opposite 40 Broadway 
LONDON WALKS REVIEWS
"Best Tourism Experience in London"  Gold Medal Winner, Visit London
"the best is London Walks"  Let's Go Europe
LONDON WALKS PRIVATE WALKS
If you can't make the regularly scheduled, just-turn-up, public Royal Walkabout do think about booking one as a private tour. If you go private you can have the Royal Walkabout – or any other London Walk – on a day and at a time that suits your convenience. We'll tailor it to your requirements. And – always with private London Walks and tours – we go to great lengths to make sure the guide-walker(s) "fit" is well-nigh perfect. Ring Fiona or Noel or Mary on 020 7624 3978 or email us at [email protected] and we'll set it up and make it happen for you. A private London Walk – they're good value for an individual or couple and sensational value for a group – makes an ideal group or educational or birthday party or office (team-building) or club outing.

GIVE THE GIFT OF LONDON WALKS
A private London Walk makes a very special, indeed, unique gift – be it a birthday or anniversary or Christmas present or whatever. Merchandise schmerchandise (gift wrapped or not) – but giving someone an experience, now that's special. Memories make us rich.
LONDON WALKS – STREETS AHEAD!