Not suitable for under 12's
Hidden Places & Hidden History This one isn't on the balcony – it's through the keyhole. It's hideaways and nooks and crannies and bolt holes with a difference: they're royal hideaways, bolt holes, nooks and crannies. It's where the goings on went down. It's kings who were queens. It's 16 coffin bearers, beheaded lovers and a questionable birthright. It's a square coffin, a fake lesbian wedding and "a bat instead of a woman". It's curses and betrayals, heartaches and hearth-aches and unhealthy habits. It's ugly sisters and poisonous makeup and war and head lice. It's between the kings' sheets and a cabinet particulaire and a royal brothel. It's £40 million of debt, swinging parties, debauchery and treachery. It's unofficial history, real history. It's guides with that tiara tingle. Here's how a walker put it: "This walk had my head spinning. Not just because of the dizzying array of funny and fascinating stories and often hilarious incidents but also because of the star power of the guide herself. What a wonderful way to spend an afternoon in London." It's a royally, royally good walk. Guided by Peter, Delianne and Karen, winner of the London Tourist Board's Guide of the Year Award. (Hard act to follow but Karen did it – did it in spades. The august American travel magazine Travel & Leisure recently crowned her "the world's greatest tour guide.") But let's hear from Karen herself.
PAST THE PALACE – THE PRACTICALS
Past the Palace goes every* Tuesday at 2.30 pm. The meeting point is just outside the Villiers Street exit of Embankment Tube.  N.B. the Past the Palace walk ends very near Green Park Tube.  *Except the Tuesdays in  December  and January 
IT ALL COMES DOWN TO THE GUIDING
Don't just take it from us…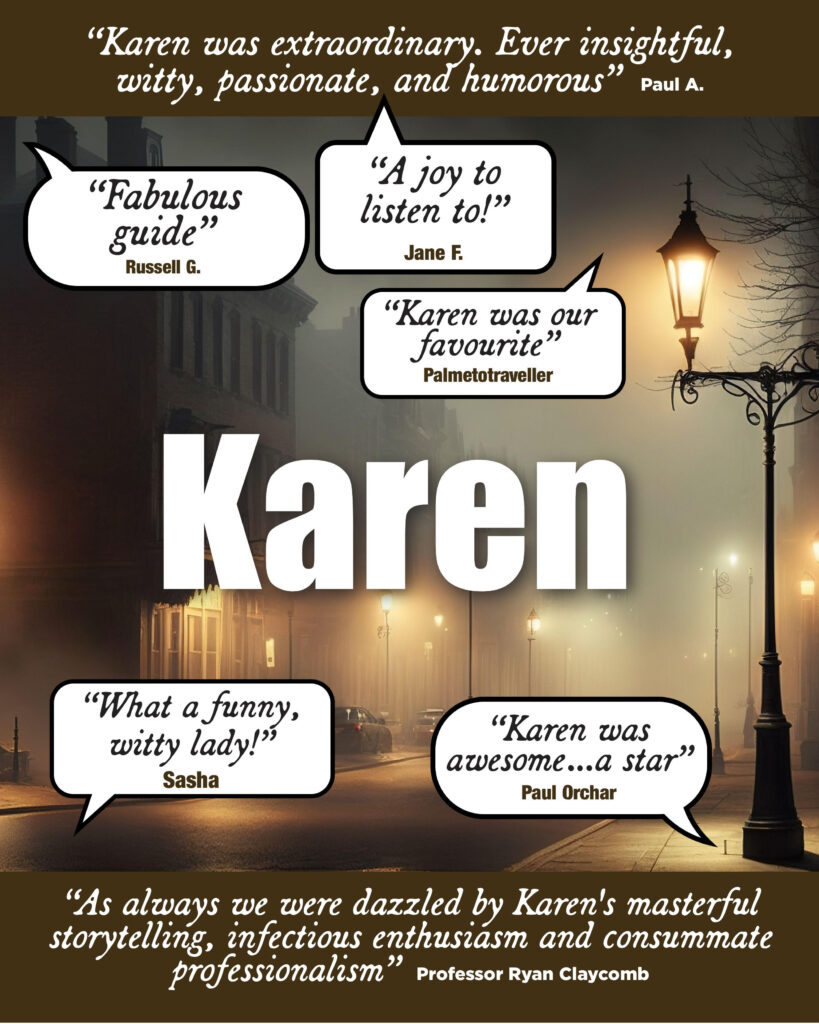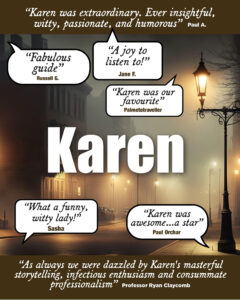 LONDON WALKS REVIEWS
"London's best walking tours"  Travel & Leisure
"The original and best – there are several companies offering walking tours of London but London Walks (London's oldest) is easily the pick of the bunch"  London, Cadogan Guide
LONDON WALKS PRIVATE WALKS
If you can't make the regularly scheduled, just-turn-up, public Past the Palace walk do think about booking one as a private tour. If you go private you can have Past the Palace – or any other London Walk – on a day and at a time that suits your convenience. We'll tailor it to your requirements. And – always with private London Walks and tours – we go to great lengths to make sure the guide-walker(s) "fit" is well-nigh perfect. Ring Fiona or Noel or Mary on 020 7624 3978 or email us at [email protected] and we'll set it up and make it happen for you. A private London Walk – they're good value for an individual or couple and sensational value for a group – makes an ideal group or educational or birthday party or office (team-building) or club outing.
GIVE THE GIFT OF LONDON WALKS
A private London Walk makes a very special, indeed a unique gift – be it a birthday or anniversary or Christmas present or whatever. Merchandise schmerchandise (gift wrapped or not) – but giving someone an experience, now that's special. Memories make us rich.
MIND THE GAP
LONDON WALKS – STREETS AHEAD!