Jimi Hendrix and 1960s London
Jimi Hendrix is still considered by many to be the greatest guitarist in Rock'n'Roll.
And his legend was born right here in London…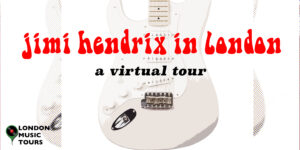 Born and raised in Washington state in the Pacific Northwest, Jimi Hendrix had to come to London to make it big. Why was that so? Because the wind whispered London. Here he could ride the breeze. Stone free, we go back down there. To his London. Go back down there by visiting Regent Street Poly, exploring the musical heritage of Notting Hill, stopping by long-gone Kensington Market… To say nothing of Mayfair, Marylebone, Knightsbridge and Soho where he played his final gig.
2020 saw the 50th anniversary of Jimi's death.