Rugby Tour extraordinaire!!!
IT ALL COMES DOWN TO THE GUIDING
Blue Badge superstar guide and distinguished London arts critic Rick Jones…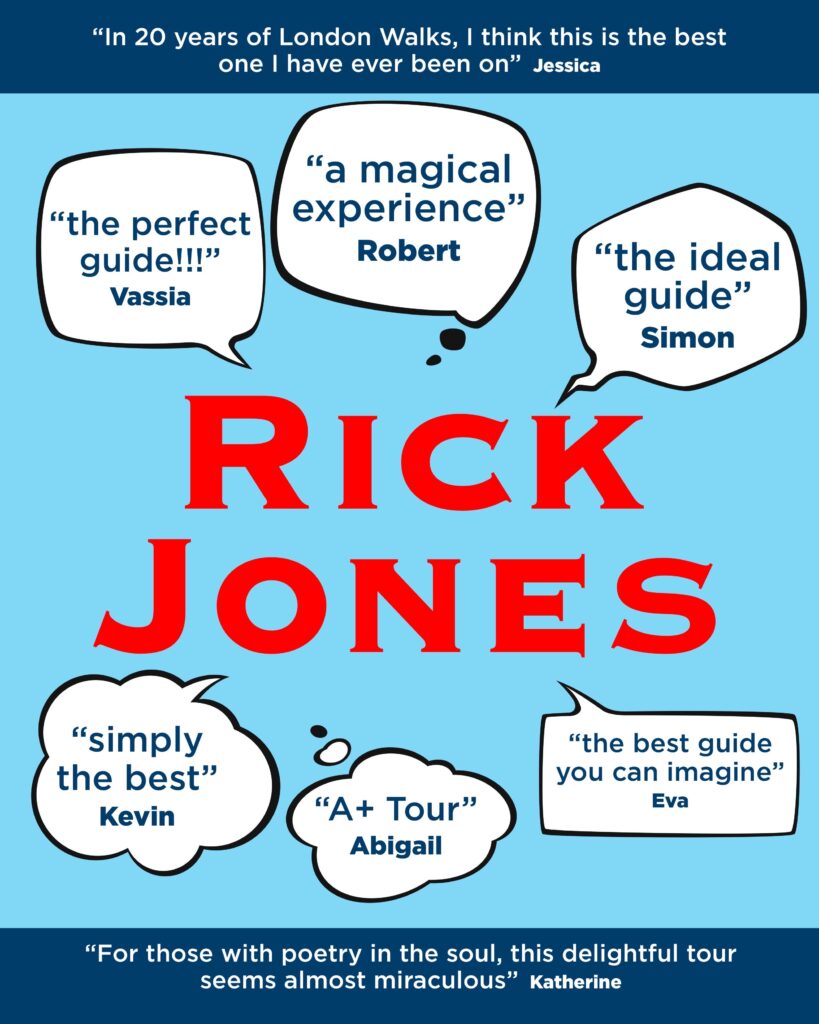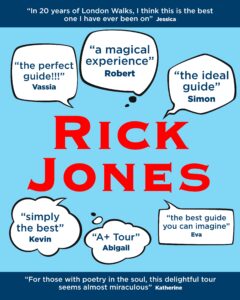 Yes, that Rick Jones. The Rick Jones who, for good measure, once played for the Harlequins (literally once). He's our fly-half leading a rugby-themed tour of London's Rugby Estate…
THE BICENTENARY
Why now? Because it's timed to perfection, that's why. A once in a 200-year-opportunity.
A rugby-themed tour of London's Rugby Estate for the bicentenary of the football match when William Webb Ellis, a scholar at Rugby School, 'with a fine disregard for the rules, picked up the ball and ran with it', thereby creating the new game.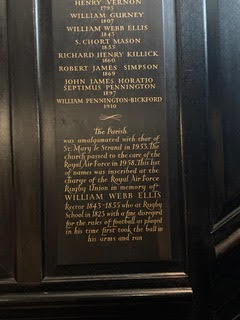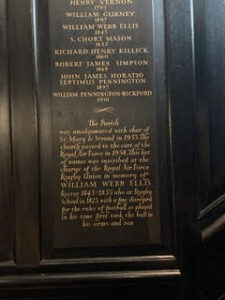 After forming up (our first scrum*) at Temple Tube we thrillingly weave our way to the goalline, to paydirt (our first try) of St Clement Dane's Church, where the immortal Revd Webb Ellis was the vicar in the 1840s.
Up 7 nil (because the conversion kick was good) we're on the march to our second try, making our way north via Lincoln's Inn Fields and the Freemason's Arms…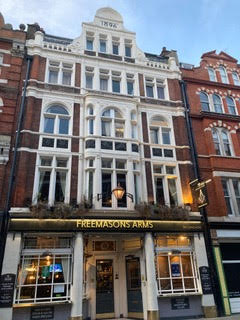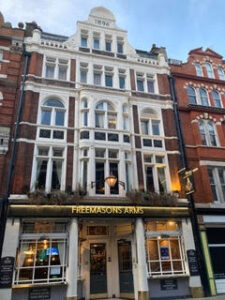 The Freemason's Arms where Association Football ('soccer') split off from Rugby Football in 1863. And how appropriate that we that we kick a field goal at the Freemason's Arms, making it 10-nil.
And then it's on to the Rugby Estate – and two more thrilling trys. The Rugby Estate, an 8-acre patch of land bequeathed to Rugby School by its founder Lawrence Sheriff in 1567. We end at the Rugby Tavern in Rugby Street among the memorabilia of the game's 200-year history.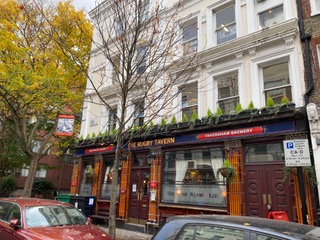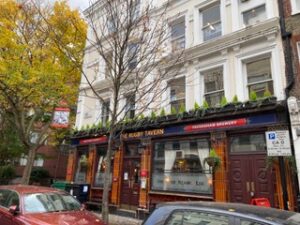 WHO'S THIS ONE FOR?
Both devotees and people who haven't a clue about Rugby
Why is it right for devotees? Well, it's obvious, isn't it.
And newcomers to the game? 1) Because it's a chance to find out about it, understand it, see what all the fuss is about. And 2) because it's not just about a game, it's also about culture, class, history, regionalism, the whole shebang. You want to understand this country, these people – these Britons – you have to have at least a passing acquaintance with the game that is central to the identity of so many of them.

"WITH A FINE DISREGARD FOR THE RULES"
The famous phrase applied to young Rugby scholar William Webb's "picking up the ball and running with it" could equally be applied Rick Jones and what he's done here. London Walks has never done a "sport" walk before. But that's what superstar creatives (on the playing field and in other areas of life) like Rick Jones do – they push the boundary. They pick up the ball and run with it.
PRACTICALS
The Bicentenary Rugby Tour goes a 1.45 pm on Fridays 24 February and 3, 10, and 17 March throughout the Six Nations Tournament. Meet fly-half Rick Jones just outside the exit of Temple Tube.
*Or the kick-off if you prefer. Or throw-in.