Short read: Retracing the footsteps of London's favourite Tudor sleuth Matthew Shardlake and his 'sidekick' Barak. A virtual guided history tour using London's earliest maps, photographs and google slides. We recreate C.J Sansom's turbulent sixteenth-century London from Staples Inn to Bucklesbury.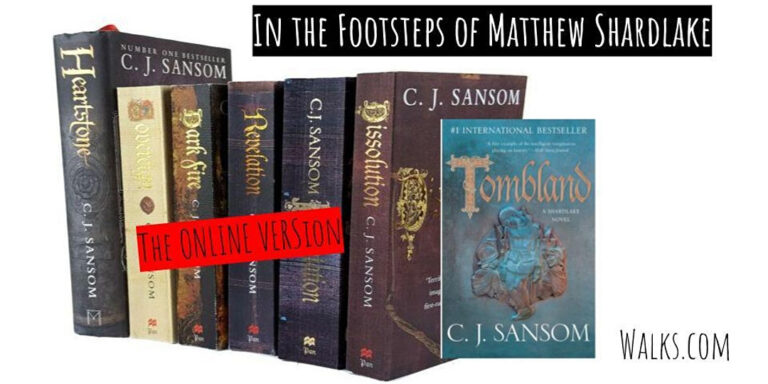 Longer read: If you are a fan of Tudor London, look no further. The Shardlake books are tailor-made for a London Walk, but now online we can visit more places. We begin at Staple Inn, a beautifully restored Tudor facade, skip over to Gray's and Lincoln's Inn and visit Shardlake's fictional home in Chancery Lane. Then by the magic of Zoom we are transported to bustling, crowded, filthy Tudor Westminster with its Court and Councils. We can sketch over the modern city and compare it to the old – some of it even survives. It's then back to the City, 'the sights, the voices, the very smell of this turbulent age' are raised from the page and into your living room. Barak's home at the Old Barge in Bucklebury, Guy of Malton's apothecary near Budge Row. The Shambles, Bladder Street, The Pope's Head Tavern, the 'Hole' at Newgate Prison –  from Bethlehem to Bedlam. We re-discover those 'lost' streets like a Tudor Rebus cutting through 'the religious and political chaos of the 1540s with sinister élan'. Nor is it all Shardlake.Walsingham, Cecil, Bacon, Drake, to name but a few – they all put in an appearance. Finally, we end at THE end for Anne Askew, burnt alive in Smithfield by The Priory Church of St Bartholomew's.
No rain, no brollies, we even get to go 'in' places we couldn't visit on the outdoor walk – virtually of course, but, in as much comfort as you like (bring a glass of your choice). Have paper and pencil handy there may even be a short quiz!