The Devil's Acre indeed. There it festered. On land mostly owned by nearby Westminster Abbey.
Charles Dickens fulminated that this slum "rolled its filthy wavelets up to the very walls."
The walk – guided by Charlie, he of the long and distinguished career in London local government* – tracks the formation, conditions, and  people – hawkers and beggars who had been drawn to the city from the impoverished countryside – of this most notorious of London slums.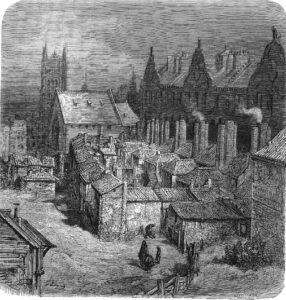 What was the solution? Smashing a road through it didn't work, nor did vociferous campaigning or the charity of wealthy philanthropists like guano magnate William Gibbs. You can still see the block he paid for in the 1860s – one of the earliest examples of social housing extant in London.
The eventual demolition and rebuilding of the whole area in the 1880s is a fascinating story.  Housing built then by the Peabody Trust's renowned architect Henry Derbyshire still stands today.  But those beggars and hawkers were replaced by 'deserving' tenants. And those new tenants may well have moved from run-down multi-occupied Georgian terraces nearby. What happened to those terraces? Gentrification. If you thought that phenomenon is something new, check out streets where it was alive and kicking in the 19th century.
*In housing, as it happens. In other words, you'll be guided by an expert who has decades of first-hand experience to draw on. Into the bargain, Charlie's a professionally qualified Westminster Guide.
MEET YOUR GUIDE
Here's a podcast in which Charlie tells us a bit about himself, his career, his guiding, his London.
FURTHER READING ABOUT THIS ONE
Short read: From Abbey to Cathedral…
Long read: Ready? Braced? You better be because we're heading into a historical heart of darkness. Into the Tiajuana of the Westminster of the great and the good. Some history. Hundreds of years ago this area earned the epithet "that terrible place." That's just the foundation. If you can call marshland a foundation. It was Dickens who described this part of London as the "devil's acre." How bad was it? Well, slums built on marshland, what do you think? Yeah, slums – the mot juste. This was the poster-child for that kind of thing – indeed "the devil's acre" pioneered – garnered, racked up, "earned" – the first-ever use of the word slum. Hollingshed had this to say about one of its "better" streets: "threepenny homes for travellers abound on both sides – yellow, sickly, unwholesome places; a fiddler was playing a dancing tune to a mixed assembly of thieves and prostitutes. So, yes, a neighbourhood of pickpockets, prostitutes, sharpers, thieves, innkeepers… Oh, it all went down here. It did a spell as an Irish rookery. Fast-forwarding to the 19th century, its main street was an exercise in slum clearance. Similarly, the Peabody buildings dotted throughout the "devil's acre" bear telling witness to "what went before."
And on the other hand, it's also a neighbourhood of elegant squares, of one stunning church, of the most perfect early Georgian street in London.
And for spice – well, more spice – scandals and politicians, an elegant dining room, a byzantine extravaganza, gaslights, and a charity school that'll stop you in your tracks. Though the stop-you-in-your-tracks factor goes for pretty much everything Charlie shows you and tells you on this walk.
THE DEVIL'S ACRE – THE PRACTICALS
Devil's Acre takes place at 2.30 pm on Saturday,  April 1st at 2.30  
LONDON WALKS REVIEWS
"by far the most impressive series of walks that I have ever encountered are those offered by London Walks"  Travel and Enjoy
"Even jaded Londoners find these London Walks a source of astonishing gems of information about the city in which they live." Daily Mail, Top London Treats
LONDON WALKS PRIVATE WALKS
If you can't make the regularly scheduled, just-turn-up, public Devil's Acre Walk do think about booking one as a private tour. If you go private you can have the Devil's Acre Walk – or any other London Walk – on a day and at a time that suits your convenience. We'll tailor it to your requirements. Ring Fiona or Noel or Mary on 020 7624 3978 or email us at [email protected] and we'll set it up and make it happen for you. A private London Walk – they're good value for an individual or couple and sensational value for a group – makes an ideal group or educational or birthday party or office (team-building) or club outing. Or indeed a special, thoughtful, unusual gift – be it a birthday or anniversary or graduation or Christmas present or whatever. Merchandise schmerchandise (gift wrapped or not) – but giving someone an experience, now that's special. Memories make us rich.
LONDON WALKS POLESTAR
It all comes down to the guiding.
MIND THE GAP!
LONDON WALKS – STREETS AHEAD!
Don't just take it from us or The New York Times