Short read: "Afloat upon ethereal tides St. Paul's above the city rides"
Long read: "St. Paul's is much more than a place of worship. It is a specific against grossness, brutality and despair." And "to set foot into St. Paul's is to experience that cold shock straight from the past, beauty as a genius conceived it, grace that we had forgotten." Now as to practicals. There's an admission charge to St. Paul's, but there is a Group Rate. More to the point is your other "spend": your time. To refract it through a great guide will "buy" you inestimable riches in St. Paul's. Knowing where to look and what to look for – and seeing these things through the translucent integument of their "stories" – it's like going from blurry near-sighted to 20:20.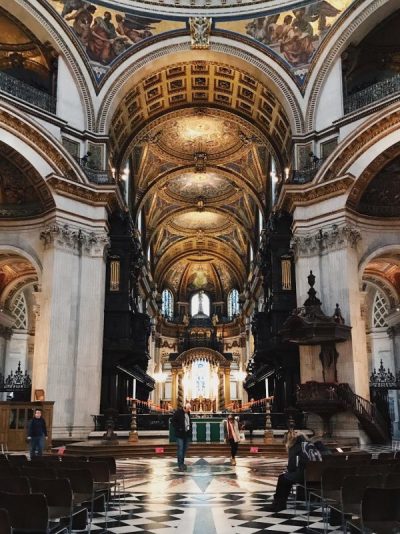 Photo by Robert Bye
The St. Paul's Cathedral Tour is guided by award-winning guides Mary ("Best Practical" – guiding equivalent of Baseball's Triple Crown), Margaret and Judy, winner of the London Tourist Board's Guide of the Year Award. Afloat upon its golden reputation – Winner, Best Tourism Experience in London Award – London Walks above the knock-offs glides. 
ST. PAUL'S TOUR – THE PRACTICALS
Secrets & Splendours of St. Paul's takes place every* Tuesday at 10.30 am. The meeting point is just outside exit 2 of St. Paul'sTube. N.B., the St. Paul's tour ends – where else? – at St. Paul's Cathedral, right by St. Paul'sTube Stop.  *Except Nov. 19, Dec. 24 and Jan. 28
LONDON WALKS REVIEWS
"Best Tourism Experience in London" Gold Medal Winner, Visit London
"London Walks puts you into the hands of an expert on the particular area and topic of a tour…" The New York Times
"The original and best – there are several companies offering walking tours of London but London Walks (London's oldest) is easily the pick of the bunch" London, Cadogan Guide
LONDON WALKS PRIVATE WALKS
If you can't make one of the regularly scheduled, just-turn-up, public Secrets of St. Paul's tours do think about booking one as a private tour. If you go private you can have the Secrets of St. Paul's Tour – or any other London Walk – on a day and at a time that suits your convenience. We'll tailor it to your requirements. And – always with private London Walks and tours – we go to great lengths to make sure the guide-walker(s) "fit" is well-nigh perfect. Ring Fiona or Noel or Mary on 020 7624 3978 or email us at privatewalks@walks.com and we'll set it up and make it happen for you. A private London Walk – they're good value for an individual or couple and sensational value for a group – makes an ideal group or educational or birthday party or office (team-building) or club outing.
GIVE THE GIFT OF LONDON WALKS
A private London Walk makes a fab present – be it a birthday or anniversary or get-to-know-your-new neighbourhood gift or Christmas present or whatever. Merchandise schmerchandise (gift wrapped or not) – but giving someone an experience, now that's special. Memories make us rich.
MIND THE GAP
LONDON WALKS – STREETS AHEAD!
IT ALL COMES DOWN TO THE GUIDING
"If this were a golf tournament every name on the Leader Board would be a London Walks guide"