Step In Time On A Music History Tour
London Calling is a series of SIX virtual tours looking at the musical history of London one-neighbourhood-at-a-time.

Episode 1: Musical Camden
Thursday 4th November 7pm (1900) London Time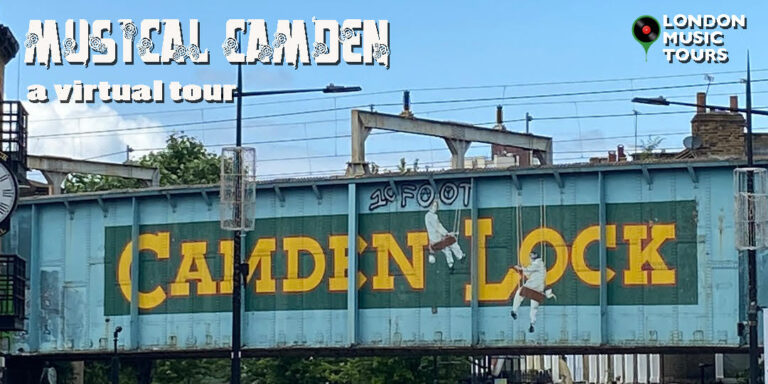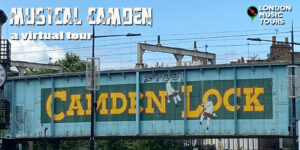 Pop your head out of Camden Town tube station on any given Sunday and you'll be treated to a veritable Bayeaux Tapestry of pop culture tribes from Goths to Mods and beyond.
Such is Camden's association with pop and rock music that it is the home to London's first Walk Of Fame – the English, rock'n'roll version of Hollywood's sidewalk star commemorations.
We'll take a look at the changing face of Camden Market, a magnet for visitors from all over the world, and we'll consider the way Londoners live in Camden Town today – both centre stage in Camden Town itself and in the quiet, less-bustling corners of the borough.
As for the music at hand… Punk will clamour for our attention – The Clash rehearsed at what is now Stables Market… the brash laddishness of the 90s Britpop bands will make itself heard… and of course we'll meet the much-missed Amy Winehouse who lived and died in Camden.
As usual in these Musical London virtual tours we will go further afield than the greatest hits… We'll also find Mozart's biographer, the keeper of the flame of English folk music, and attend the mass acid trip that never was.
From Doctor Marten boots to clog dancing – all music is here in Camden.
"★★★★★ Adam is a knowledgable and entertaining guide" Moira Allen, Google Reviews
Selected Themes, Artists, Periods & Genres in Episode One
Blur, Henry Wood, Amy Winehouse, Madness, the Clash, Rock, Punk, Ska, 19th Century Classical, Folk, Indie
Episode 2: Musical Southwest London
Thursday 11th November 7pm (1900) London Time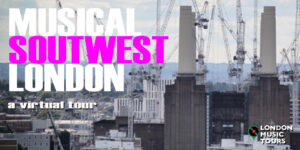 It's another big area to cover (see also Southeast London later in the series & East London episode back in Series 2) – which allows us to run riot through the musical genres once more.
From cradle to grave – we'll find where Bowie was born in now gentrified Brixton and the spot where Marc Bolan died in Barnes.
We'll go visiting with the great and good – George Frideric Handel had his first lodgings at Barn Elms and The Beatles were "neighbours" in St Margaret's. (While we're in that neighbourhood we'll find lots of music at Twickenham Studios, too)
We'll also pick up cult legend Geno Washington and the Ramjam Band,  spy on the Stones as they record in arguably the finest recording studio of the 60s, and see Gustav Holst's home.
Oh, and pigs really WILL fly over Battersea Power Station.
"★★★★★ Better than BBC4!!!" ianopod, via Instagram
Selected Themes, Artists, Periods & Genres in Episode Two
Rock, Ska, Reggae, South, Baroque, 19th Century Classical, Beatles, Handel, Pink Floyd, Gustav Holst, Geno Washington
Episode 3: Musical Hampstead
Thursday 18th November 7pm (1900) London Time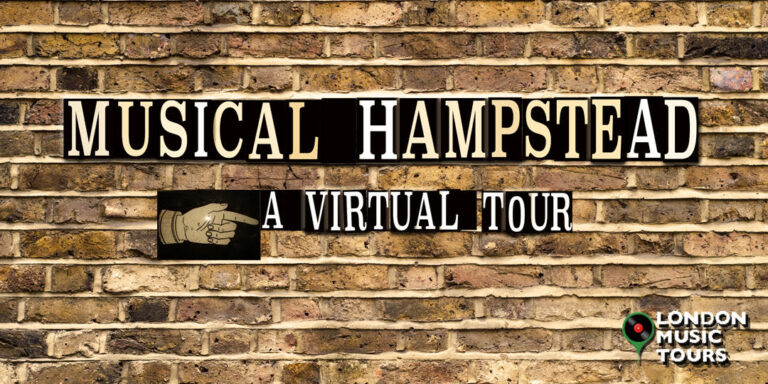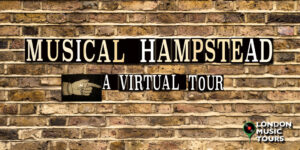 Heath, hills and house prices. Hampstead is famous for all three.
This storied north London enclave reaches some 400 feet above sea level. Its most expensive properties can hit the £30 million mark and it boasts 800 acres of wild park, woodland and meadow.
But those Hampstead numbers only tell part of the story…
The musical numbers that make up this virtual tour reveal much about the makeup of Hampstead, one of London's most creative neighbourhoods.
Our narrative playlist will draw upon the work of… Canadian troubadour Leonard Cohen & his first novel;  The story of Decca Records in West Hampstead… Bob Dylan sofa surfing & Johnny Rotten squatting in NW3… Phyllis Tate, composer of an opera inspired by the Jack the Ripper case… and the wistful pocket musical Les Bicyclettes de Belsize.
As we pass we'll meet Hampsteadites from the world of literature, art, media and politics – NW3 is famed for its famous residents in those fields, too.  But for one hour they'll have to take a back seat to the composers, players and singers – on this tour, these Hampstead hills are alive with the sound of music.
" ★★★★★ A great storyteller" – Amanda B TripAdvisor
Selected Themes, Artists, Periods & Genres in Episode Three
20th Century Classical, Film Soundtrack, Folk, Blues, Rock, Marianne Faithfull, Delius, Rolling Stones, Bob Dylan, Leonard Cohen, Phillis Tate
Episode 4: Musical Belgravia & Westminster
Sunday 25th November 7pm (1900) London Time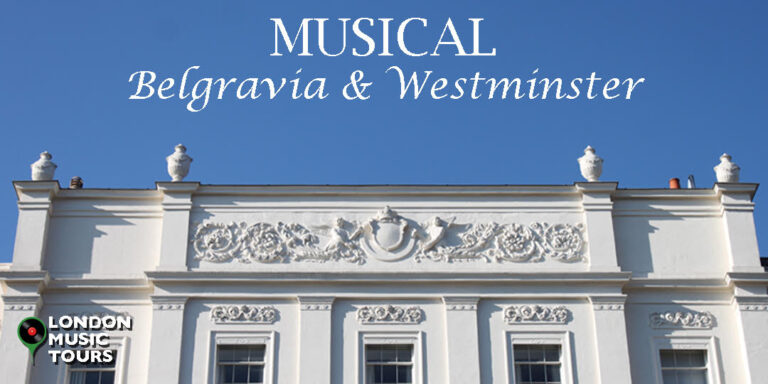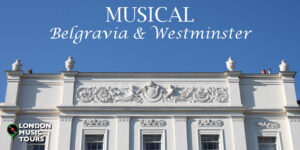 "People's behaviour away from Belgravia would leave you aghast!" Noel Coward, Marvellous Party
This marvellous party of a virtual tour is a two-neighbourhood affair (see also the Musical Mayfair & St James's virtual tour back in series 2) and will take in everything from music hall (vaudeville) to baroque.
On Side One we'll mooch around the stuccoed squares and mews of Belgravia, tracing its history and tracking down Noel Coward, Kitty Stevens, Frederic Chopin and Brian Epstein (among others).
Turning over to Side Two, Henry Purcell will dominate – the great man of English baroque was born, lived, worked and died within a few square miles in Westminster. He'll be ably supported by David Bowie, Stevie Wonder and Shane MacGowan of the Pogues.
Pomp, power and posh squares – from the movers and shakers of Parliament to high society in Belgrave Square, welcome to Belgravia and Westminster.
" ★★★★★ Adam is an enchanting entertainer" – sandraheuwels, TripAdvisor
Selected Themes, Artists, Periods & Genres in Episode Four
Musical Theatre, Opera, 60s pop, Rock, 19th Century Classical, 17th Century Baroque, Henry Purcell, David Bowie, Chopin, Lloyd Webber, Noel Coward
Episode 5: Musical Southeast London
Thursday 2nd December 7pm (1900) London Time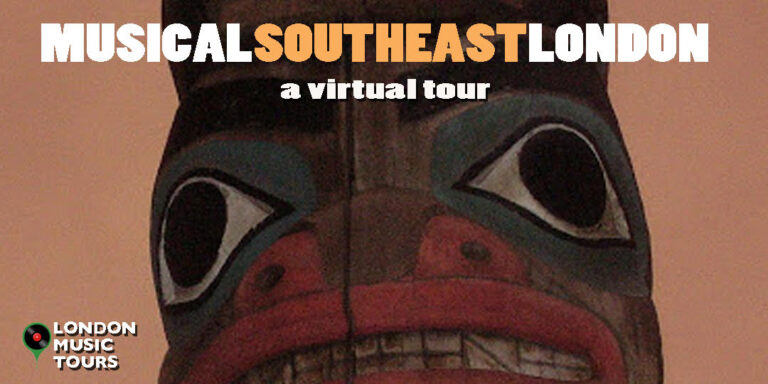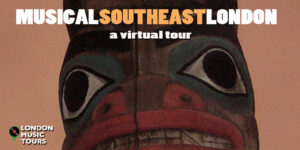 On this tour we'll cover a lot of virtual ground – from Greenwich to Penge and beyond – genteel, royal London to working class London and back again.  All human life – and thus all music – is here.
On this instalment of the London Calling series we'll reach our southernmost points on the map – Bromley and Beckenham, the old stomping grounds of David Bowie. We'll call in at Deptford to find one of London's most beloved bands, the legendary Squeeze. The Bromley Contingent will make a cameo appearance – the disaffected youth of suburban southeastern London who answered the clarion call of punk rock.  We'll look in to death of ACDC's Bon Scott and hear the Hallelujah Chorus at Crystal Palace for miles around.
Welcome to the beautiful south… via Halle, New York City & Mars. Southeast London yields a weird-and-wonderful greatest hits.
" ★★★★★ Very engaging guide… knew his stuff" – PLowndes TripAdvsisor
Selected Themes, Artists, Periods & Genres in Episode Five
Punk, Baroque, 19th Century Classical, Heavy Metal, 60s R&B, Bowie, Siouxsie & the Banshees, Handel, Squeeze, AC/DC
Episode 6: Musical Thames
Thursday 9th December 7pm (1900) London Time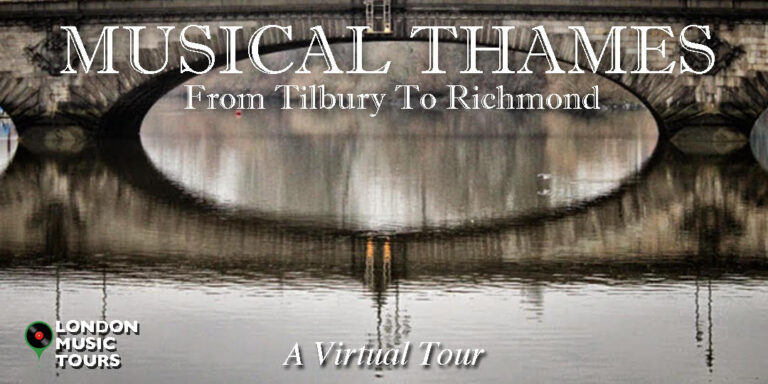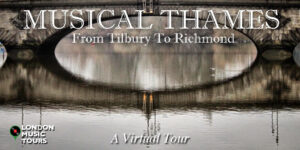 From Tilbury Dock to Richmond, the narrative for this virtual tour rises in the east and sets in the west – a day in the life of London Music.
At Tilbury we'll cheer the arrival of the calypsonians of the Windrush generation in 1948 – and at Richmond we'll see where black music was woven in to the fabric of post-war British youth experience.
George Frederic Handel will serenade us from Whitehall to Chelsea;  The Kinks' Ray Davies paints a riverside picture as vivid as any Monet. Meanwhile the filth and the fury of the Sex Pistols will rock the boat.  And there are riverside venues aplenty from the O2 to the Royal Festival Hall and Eel Pie Island.
The musical history of London just keeps rolling along. What better place to chart its flow than on the river that founded this mighty city?
"★★★★★ Really brightened up our quarantine!" – Catherine G via Facebook
Selected Themes, Artists, Periods & Genres in Episode Six
Calypso, Blues, Jazz, 19th Century Classical, Eurovison, Pop & Rock, The Kinks, Lord Kitchener, Sex Pistols
London Calling! Season Membership
Season membership is £36 – that's £6 per tour as opposed to the regular price of £10 per individual tour.
Tickets for individual tours are also available, subject to availability – the'll go on sale in October 2021.
Q. Can I book just one tour?
A: YES! You can book as many tours as you like subject to availability – booking for individual tours opens in October 2021.
Q. What do I get with Season Membership?
A: You save 40% on the regular price AND you get access to recordings of the tours
Recorded versions of the tours are available until February 2022 – giving you plenty of time to catch up if you can't join in live. Also if the live time slots don't suit you in any given week, buy membership and you can watch each tour at whatever time you like, they will be uploaded after each individual instalment has taken place.
These virtual tours are conducted via Zoom. You will need to download the Zoom app to your device. It's free.