Here, below, is guide Richard Walker talking about his small group Ripper walk.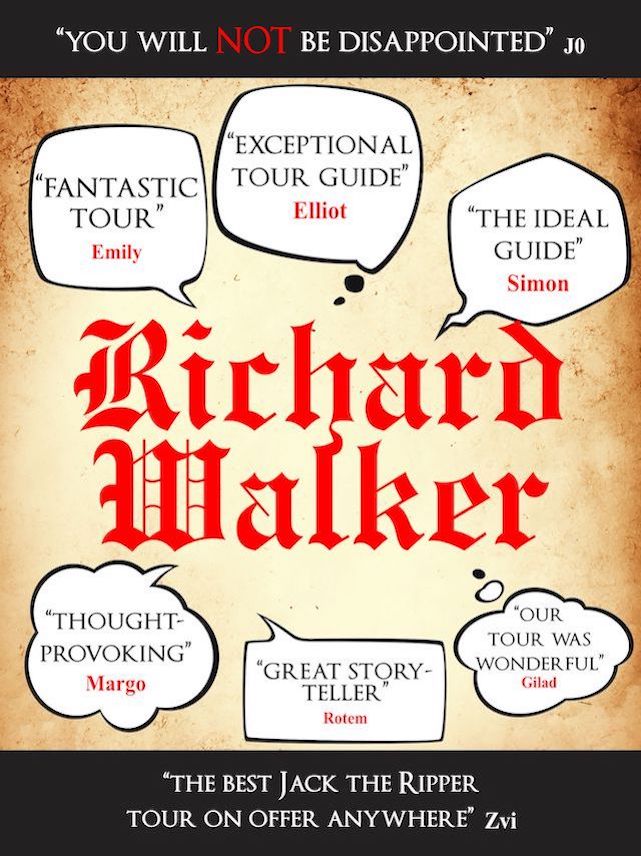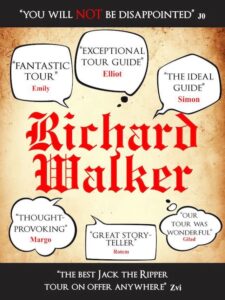 There are plenty of Ripper walks and you will probably only go on one.
London Walks guide Richard Walker will lead you through the murder sites starting right where Jack began . . .in the infamous Buck's Row, Whitechapel.

Practicals:
The small group Ripper walk takes place at 7 pm every Thursday, every Friday and every Saturday evening. But do check the calendar because there are a few exceptions that prove the rule.
Meeting point: The starting point of this walk is Whitechapel Tube Station and the tour ends near Liverpool Street station.
Price: £20 per person
Maximum of 12 per tour so you must buy your ticket online. To ensure group size only ticket holders can join this tour.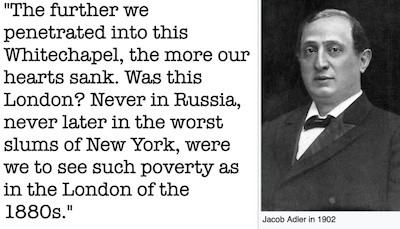 Whitechapel in the ancient parish of Stepney.
Stepney* olde English – 'the landing place'.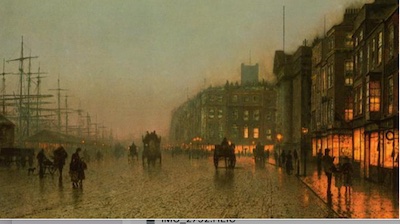 For centuries the world supplied the City of London with all it required and it all passed through the Whitechapel docks in the parish of Stepney.
And it wasn't just goods that arrived.

Refugees from the Huguenots of France, to the starving masses of Ireland, to the persecuted Jews of Europe all made their way to the lanes and alleys of Whitechapel and Spitalfields.
And so did . . .

The monster we call – Jack the Ripper
And the Whitechapel of the 1880s was made for Jack the Ripper.
It was a world of foul tenements, starving children and bottomless despair.

This is Whitechapel and this is the world of Jack the Ripper. It is one heck of a story and I want to tell it to you.
Click here to listen to The World of Jack the Ripper, another short scene-setter podcast by Richard.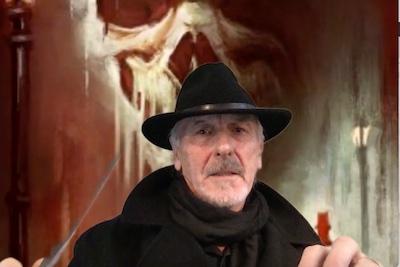 Itinerary
I have been guiding for London Walks for 15 years and Jack the Ripper walking tour was my first.
This is a new twist. I'm starting at Whitechapel Underground Station because this is where Jack the Ripper murders began. Right behind Whitechapel Underground Station in Buck's Row – now called Durward Street. This is the only London tour to visit 4 of the 5 crime scenes.
Charles Cross and Robert Paul discovered the body of a 43 year-old mother of five children. Mary Ann Nichols known as Polly Nichols ended up walking the mean streets of Whitechapel in the early hours of the 31st of August 1888. A woman whose life was ended by a serial killer who killed at least 4 other vulnerable women on the streets of Victorian London.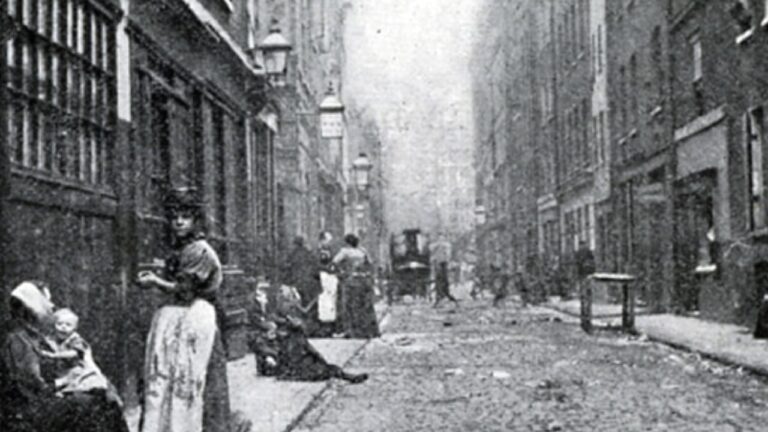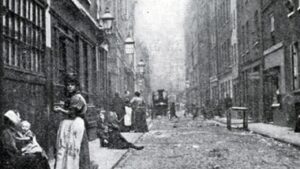 We will head to 29 Hanbury Street where Annie Chapman became the second victim. We will get to Spitalfields Market and the Ten Bells Pub by way Brick Lane, Princelet Street and Puma Court. Back streets that still capture the feel of 18th and 19th century Whitechapel. We will see where the worst street in London once stood – Dorset Street. Miller's Court where the brutal murder of Mary Kelly took place on November the 9th 1888. Goulston Street and the doorway where the cryptic message was chalked – "The Juwes are the men that will not be blamed for nothing".
And this guided tour will end at Mitre Square where Catherine Eddowes was put to death. Murdered less than an hour after Liz Stride had her throat cut in Dutfield's Yard, Berner Street. Two women who go down in history as 'the double event'. Just two of a teaming multitude that deserved a better life and a better end.
Christ Church Spitalfields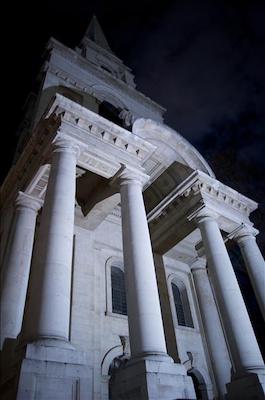 Nicholas Hawksmoor's magnificent church built between 1714 and 1729. An impressive landmark for the 5 ripper victims and still impressing.
The Ten Bells Pub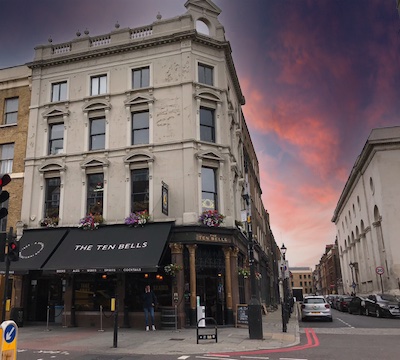 The Ten Bells pub that stands across the road from Christ Church Spitalfields. And it is from the ten bells that hang in the church steeple that the pub gets its name. It's believed that at least some of the victims would have drowned their sorrows there. And almost certainly 'Jack' would have been seen propping up the bar there.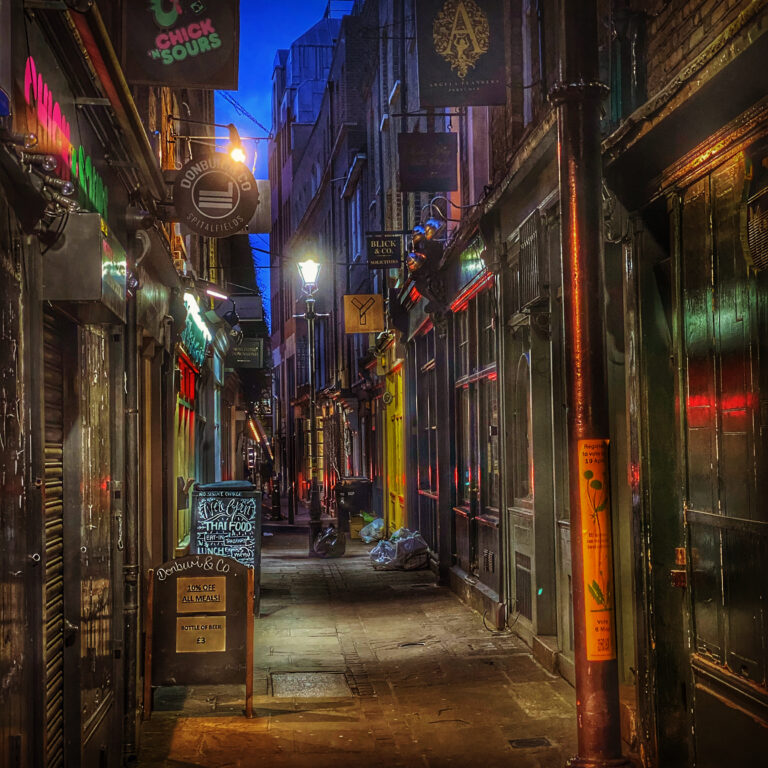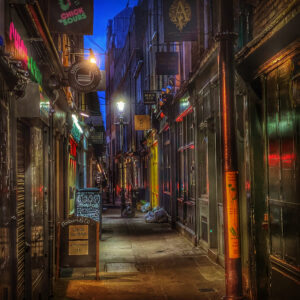 Image caption: Yes we can still see the Whitechapel and Spitalfields of bygone days. Dark streets light by gaslight.
Bucks Row & The Board School
Buck's Row has changed since 1888 it's now called Durward Street. But the board school building where Polly's body was found is still there.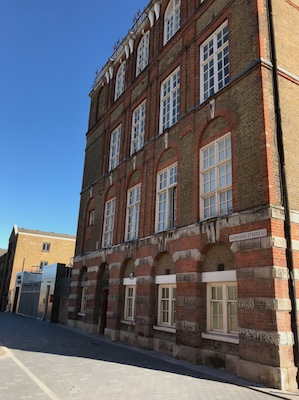 This is the board school as it was when Polly was found against the gates where the arrow points. And it's the first location that we will visit.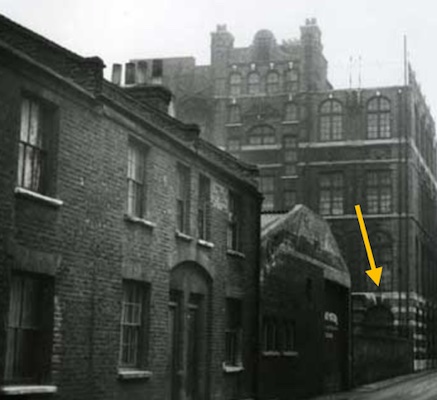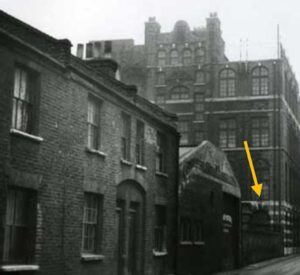 The People Of The Walk
Mary Ann Nichols (known as Polly Nichols), Annie Chapman, Liz Stride, Catherine Eddowes and Mary Jane Kelly were dismissed as prostitutes by the police and journalists – though their judgement may have owed more to male attitudes to women than to hard evidence.
Four of them were over 40 and three of them had raised children before a combination of stress and alcohol left them sinking into the abyss.
Certainly Ripperologist Halle Rubenhold is reasonably certain that not all of these women sold sex. The Five is an excellent book which maybe should be compulsory reading for some tour guides who still like to dwell on the depths of depravity that they like to imagine these women sank.
It might be worth concentrating the spotlight onto what kind of society it was that left these women at the mercy of monsters.

From the Guide
I want to do justice to Jack the Ripper's Whitechapel especially the victims.
And I want to share the diverse and vibrant world that Whitechapel is today and in order to do that I have decided to restrict numbers to just 10 on this special walk. Please book online to secure your place!
There is nothing better than sharing London with visitors from near and far. I hope that you will be one of them.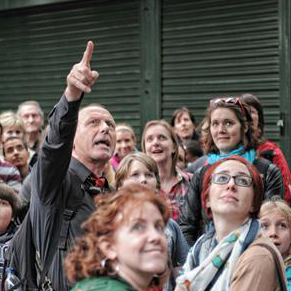 Reviews
 Thanks Richard that was so interesting and what a great end to the week! You have a fabulous way of narrating and giving context to the mysteries that remain to this day about jack the Ripper. I really appreciated you bringing me back to remembering and bringing focus back to the women who were victims of his horrendous crimes.  – Lucy

Really enjoyed it! Fascinating. Thank you from North Carolina,. USA. – Kendi

I will definitely join you again – very interesting thank you! – Claire

Hi Richard, Really enjoyed the virtual tour the other evening, especially the 10 minute chat post tour. Actually I remember you now. Years ago I did a tour about the history of the financial system in the City, you were my guide, it was from you that I learnt about the Remembrancer. I have ordered your book it is due to arrive on the 5th of October. I will look out for your virtual tours in the future hope to see you then. God bless and keep you during these difficult times – Michael

Dear Richard, Thank you very much for the Jack the Ripper tour this evening Milly and James said it was brilliant!! Milly said she learnt more tonight than she did in her history lessons. Please can you let me know your bank details as I only transferred funds for Milly and not James, which we'd like to do. I think they are going to join you on a Saturday at some point soon. Many thanks again. – Susie.
London Walks Private Tours
If you can't make the regularly scheduled, Jack The Ripper Whitechapel tour why not think about booking it as a private walk?  If you go private you can have this walk– or any other London Walk – on a day and at a time that suits your convenience. We'll tailor it to your requirements. Ring Fiona or Noel on 020 7624 3978 or email us at [email protected] and we'll set it up and make it happen for you.