A guided Virtual Tour of Musical Covent Garden. From the Opera House to the theatre where Bob Marley became a legend; via the oldest recording studio in Britain (1898) to the hotel where Bob Dylan held court in '65; from Rule Britannia to On the Street Where You Live – this London Music Tour covers the musical waterfront from Arne to Zappa. From John Gay's The Beggar's Opera to Bob Marley's Exodus, there will be cameo appearances from Noel Coward, Alan Jay Lerner, Gilbert & Sullivan, Charlie Chaplin, The Smiths, U2 and – in the best tradition of greatest hits collections – many, many more.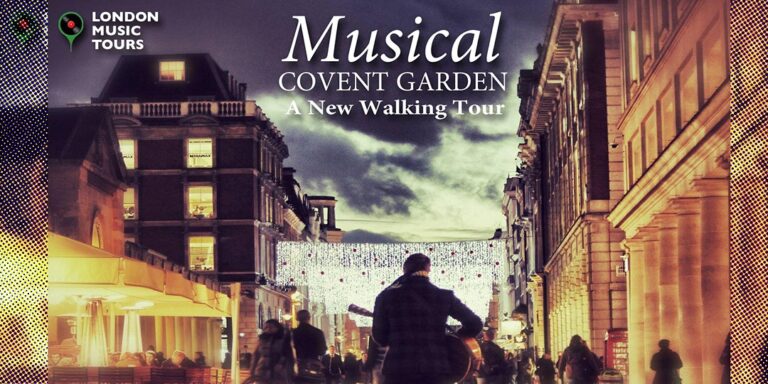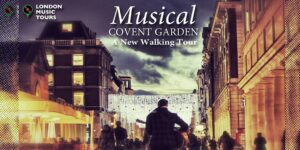 Adam will show you the best bits. Inscape them (tell you the stories that so add to the enjoyment of what your eyes are feasting on). You'll "meet" the characters. You will be taken there, get to know the place. You will return having undergone an extraordinary experience – you'll "get it" about Covent Garden and especially its long and glorious and variegated music scene. Anything else? Yes, the Tour is not just live, it's interactive. Questions come up, you've got points to make – that's one of the many joys of this "vehicle".
Why? By popular demand. And because it's Adam's Musical Covent Garden tour ("it's like having a rock star as your own personal walking tour guide").
How long does it last? About an hour.
How does it work? The wonders of the Internet. In a word, Zoom.
Do I have to book? Yes.
How do I book? Click here.
How much does it cost? £10 per person.
What sets it apart? It's the London Walks Musical Covent Virtual Tour
So what? "London's best guided walks" Time Out;  "London Walks is without a doubt the premier walking tour company in the entire world" – that's what.
Is it possible to book a private Musical Covent Garden Virtual Reality Tour? Yes. Get in touch with us here at London Walks. Email: [email protected]             Tel. 020 7624 3978
What if I have further questions? Eezy peezy. Contact David or Mary at London Walks. It's 18/7 and you get a real person, a living, breathing human being – not some automated, metallic "voice" presenting you with an infuriating series of options ("press this button, press that button" ad nauseum).
Email: [email protected]    Tel. 020 7624 3978